Joseph H. Bellande (1813-1907)
Joseph H. Bellande (1813-1907)
Image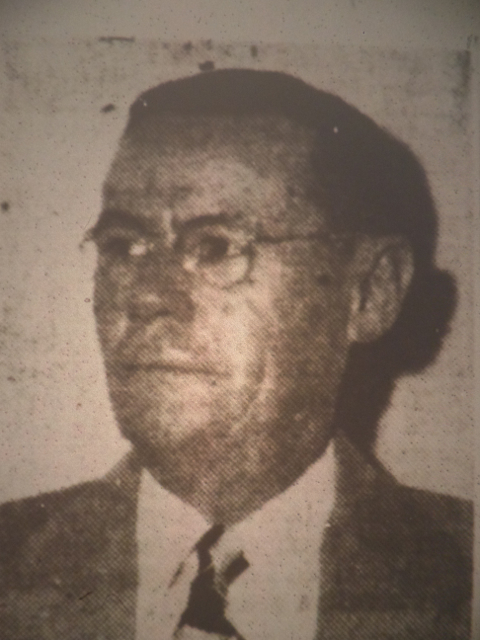 osarep
Tue, 03/23/2010 - 15:55
Joseph Bellande was born in France, probably Marseille, in October 1813. He arrived in this country in 1835, according to his statement on the census of 1900. He is believed to have come first to New Orleans. It is not known when or why he arrived in Ocean Springs, Mississippi where he lived out the rest of his life. He married Rosaline LaFauce, daughter of Jacques LaFauce and Marie Eveline LaFontaine on May 26, 1842.
In 1846, as husband of one of the heirs of the "Widow" LaFontaine property, he received title to approximately 20 acres of land in the heart of present day Ocean Springs. His tract was about 260 feet wide and 3300 feet in length running from the front beach on the Bay of Biloxi to County Road (now Government Street) in Claim Section 37, Township 7S-Range 8 West. The present day City Hall, Public Library, Police Station, a portion of Little Children's Park, Bellande Avenue, Dewey Avenue, and the Bellande Cemetery are located on the Bellande Tract. In 1859, he warranted a deed to Bishop William H. Elder measuring 192 x 100 feet for the site of St. Alphonsus Catholic Church on Porter Avenue for $100. From 1883 to 1892, he sold much of his land, some to his children, some to local residents Gregoir Weider and George and E.S. Davis, and some to Albert G. Tedo of New Orleans. As far as can be determined, none of the original holdings belong to any family members now.
He made his livelihood as a fisherman and sailor, and later was a captain of a trading schooner, The Three Brothers , according to census records. During the storm of August 1901, The Three Brothers beat itself to pieces and sank at Schmidt's Wharf on the front beach the day of August 14th. He was the father of eleven children. They are Cherie Marcellus (b. 3 March, 1843), Odile Delphine (b. 2 July, 1844), Honnorais "Noah" (b. 29 November, 1846), Joseph (b. 13 December, 1848), Clement (b. 31 December, 1850), Antoine (b. 24 November, 1852), Rosalie "Azalie" (b. 22 October, 1854), John Nestor (b. 29 August, 1856), Laura Evelina (b. 15 January, 1859), Adolphe (b. 8 January, 1861), and Zoe Wilhemina (b. 6 June, 1863).
Not much is yet known about the personal life of Joseph Bellande. His family Bible, in French, was recently discovered in the home of one of his descendants, as well as some legal documents and personal papers in the form of a journal. All of these were handwritten in French. The legal documents would seem to indicate he was related to a later French immigrant seaman named Bellande - Antoine Bellande, "the Captain", who arrived in this country in 1851. It appears they were brothers or half brothers, sons of Jean Joseph Marie Antoine Bellande of Marseille, a caulker in the shipbuilding business.
An aspect about Joseph's personal life that makes him a particularly intriguing figure was handed down through the family lore of one of his descendants, but has not yet been substantiated. Geneva Eliska, the eldest daughter of Joseph's youngest child Zoe, knew her grandfather to be a former priest, excommunicated on the event of his marriage to Rosaline LaFauce.
She recalled that he had gotten into some political difficulties with the Church, and upon the advice of his friends who feared for his life, he fled France. His writing would indicate that Joseph remained a deeply religious man, his journals consisting of many prayers for the hours of the day, the Stations of the Cross, and the like. One can only speculate on the inner torment of this man, who despite his excommunication, raised his family in the Catholic Church, was denied admission to the funeral mass on the occasion of the death of his wife Rosalie of asthma in January of 1893. He sat sobbing out-side St. Alphonsus Church on that Tuesday afternoon. This was witnessed by his eleven year old granddaughter, Geneva Eliska. He lived in his house on LaFontaine Avenue for another 13 years, outliving seven of his children. He provided a home for his daughter Azalie Reus and her two children after she was deserted by her husband. On June 16, 1907, he was on his deathbed. Father Peter de Gruyter, the Belgian pastor of St. Alphonsus who was apparently disliked by the entire congregation, came to Joseph, presumably to administer the last rites and hear his confession. According to Church records, the dying man cursed the priest out of his house. Joseph is buried in the Bellande Cemetery, his grave marked by a cedar cross, now gone.
The history of Joseph and Rosaline's children can be deduced from census records, wills, and other legal documents, church records, newspaper obituaries, notes found in the Family Bibles, and remembrances of descendants that have thus far been located.
A document from the Jackson County Chancery Court, Cause No. 4636, dated 14 August, 1926, a case involving a land dispute between all the surviving heirs of Joseph, gives a good lead on the fates and whereabouts of his children. It is not clear why this land on LaFontaine Avenue at Ocean Springs was contested, but the end result was that it was sold at auction to Josephine Friar for $1200. The profits were divided up proportionately among the heirs, each one receiving an amount somewhere between $25 and $130. The legal action will be referred to again in relation to each of the children.
Joseph and Rosalie's Children
Joseph and Rosalie's Children
Image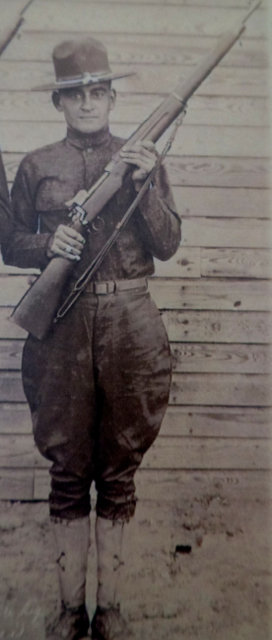 osarep
Tue, 03/23/2010 - 15:56
1. Marcellus Bellande (1844-1905) Joseph's first-born child joined the Confederate Army at the age of 19. According to the book, Louisiana Confederate Soldiers and Confederate Commands, compiled in 1920 by Andrew B. Booth, he was a Private with Company D, 4th Louisiana Infantry. He enlisted on October 22, 1863, in Mobile, Alabama, when his youngest sister, Zoe, was just a few months old. Nine months later, he was captured near Atlanta, Georgia on August 5, 1864. He was sent to military prison in Camp Chase, Ohio, and remained there for nine months, being paroled May 2, 1865. He was exchanged for a Union prisoner and moved to New Orleans. He married Rosina Ludwig (1839-1925), a German immigrant and the widow of Jean-Marie Begue, in October 1885, and resided at 822 Ninth Street, New Orleans. They had no children. Marcellus Bellande expired at New Orleans on June 2, 1905. His wife Rosina lived until 1925.(NOLA Marriage Record V. 11, p. 484 and NOLA Death Records Index V. 135, p. 541)
2. Delphine Bellande married a relative ten years her senior, John Ryan, son of Jerome Ryan and Euphrasia LaFontaine, on April 12, 1871, at St. Alphonsus Church in Ocean Springs. Her sister, Rose Azalie, was one of the witnesses. John was a house carpenter, and the family lived in the house next to Joseph's. John died sometime between 1881 and 1900. They had four children: Anna (1872), Joseph (1875), George (1877), and Arthur (1881). After her husband's death, she continued to live in Ocean Springs with her sons George and Arthur, both fisherman. By 1910, she had moved to Biloxi and was living with her widowed daughter-in-law Alice, a dressmaker, who had married her oldest son Joseph, and her son George. She must have died before 1926, as only her three surviving children, Anna, George, and Arthur are mentioned in the 1926 land dispute. Anna married Arnold "Boy" Catchot (1869-1939) in 1895, and reared a large family. They resided in New Orleans (1918-1928) where "Boy" worked for the L&N Railroad. The Catchot family returned to Ocean Springs where Anna died on October 30, 1930. George also lived in New Orleans. It is not yet known whether he had a family. Arthur lived in Biloxi, and married Angelina from Italy and had a least two children, Juanita (1907) and Geneva (1909).
Honore Bellande
Honore Bellande (1845-1871) was the son of Joseph H. Bellande (1813-1907), a native of Marseille, France and Rosaline LaFauce (1821-1893) or LaForce, the daughter of Jacques LaFauce and Marie Eveline LaFontaine of Ocean Springs. Her grandparents were the Widow LaFontaine, Catherine Bourgeois (1768-ca 1845), and Louis Auguste LaFontaine (1762-1824), the founders of modern day Ocean Springs.
Honore Bellande married Francine Ryan, daughter of Alfred Ryan and Dora Staffin of Biloxi, on December 1, 1869. Their son Adolph Bellande was born August 26, 1870. His Aunt Laura Ryan Bellande was one of the sponsors at his baptism. Honore died a year later on September 19, 1871. His widow, Francine, married HarroBellman (1849-1920), the son of Charles N. Bellman (1806-1860+) and Pauline Ryan (1815-1899), the daughter of Jacques Ryan (d. 1849) and Elizabeth Laforce, on August 10, 1876. They had a daughter named Sue.
Adolph Bellande bought property from his grandfather, Joseph Bellande on Bellande Avenue in 1892. For some time, he lived in Biloxi, and married Beulah Ellis Richards (1872-1952) on February 22, 1906, in her home at Ocean Springs. Judge E.W. Illing performed at the ceremony.
Beulah Ellis was a native of Fontainbleau, a small community east of Ocean Springs and had married Reuben L. Richards (1864-1928) of Ocean Springs on December 26, 1889. They were divorced in the Chancery Court at Jackson County in 1905. According to Cause No. 1368, they had a son, Frank E. Richards. Reuben L. Richards married Miss Lena Spradley in 1919. They had a son, Lloyd Richards. Richards worked many years for Mrs. Purrington as caretaker of her beach front estate.
Adolph Bellande and Beulah Ellis had a son named Adam Eugene Bellande (1907-1977), commonly called Gene. Adolph did not remain with Beulah very long. He died on January 14, 1916 and is buried in the Bellande Cemetery in Ocean Springs. He was a member of the Woodmens of the World (Satsuma # 703). His son, Gene, went on to become a renowned fisherman, had many postcards of himself made as a young man. He was known ubiquitously as the "Flounder King". He and his mother, Beulah, were the defendants in the 1926 land dispute, and all the other Bellande heirs were the complainants. Gene was married to Mary Josephine Walker (1913-1977) of Gulfport. They had six children, some of whom still reside in the Biloxi-Ocean Springs area. Gene Bellande died July 27, 1977 and is buried in the Evergreen Cemetery in Ocean Springs.
His children are Ellen Louise B. Grant (1931-1996), Lee Jeanette Blanchard (1932-2003), William Eugene "Billy" Bellande (1935-2002), Martha Elizabeth B. Lashbrook (1936-2004), Billy Ray Bellande (1938-2009), and Betty Fay Denning (1938-2005).
Ellen Louise Bellande
Ellen Louise Bellande Grant (1931-1996) was born on March 13, 1931, at Biloxi. Ellen married Ebenezer Morgan Grant (1926-1985) on April 28, 1950, in Harrison County, Mississippi. She expired on January 21, 1996. They were both interred in the Evergreen Cemetery at Gulfport, Mississippi.(HARCO, Ms. MRB 81, p. 615)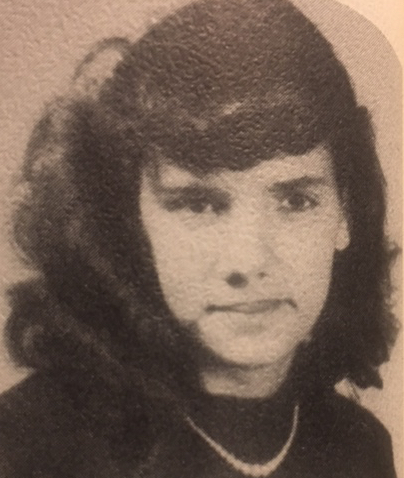 Lee Jeanette Bellande
Lee Jeanette Bellande Blanchard (1932-2003) was born at Biloxi, Mississippi on December 31, 1932. In Harrison County, Mississippi, she married Leroy F. Blanchard (1921-1954) on June 7, 1950. He was the son of Lee J. Blanchard (1891-1960) and Amelia Robicheaux (1897-1983). Jeanette made her livelihood as a nurse. She was the mother of: Leroy F. Blanchard Jr., (1951-2008) m. Barbara Faircloth; David L. Blanchard Sr. (1954-1994); and Kevin Parker. Mrs. Blanchard was a member of the Full Gospel Tabernacle Church. She died at Biloxi on January 8, 2003. Jeanette B. Blanchard's corporal remains were interred in the Biloxi City Cemetery.(The Sun Herald, January 10, 2003, p. A5)
William E. Bellande
William Eugene "Billy" Bellande (1935-2002) was born at Biloxi on January 31, 1935. He made his livelihood on the sea. He was the captain of the shrimp boat, Jeffrey Mac, and Blue Chip, an offshore supply boat. Billy was the former Commander of VFW Post 2434, a member of the French Club, and American Legion.
In April 1959, Billy Bellande married Eva Voncile Freeman (1938-1989), the daughter of William L. Freeman and Eva Jewel Furby of Grand bay, Alabama. She was the mother of: William Eugene "Bubba" Bellande II (b. 1963) m. Mary Ann Hughes and Rhonda Jean Bellande Duffy. They divorced in July 1981. Eva expired at Jackson, Mississippi on December 4, 1989. Her corporal remains were interred in the Adam E. Bellande family plot at the Evergreen Cemetery at Ocean Springs.(HARCO, Ms. Chancery Court Cause No. 9659 and The Daily Herald, December 6, 1989)
Billy Bellande married Louise Ross West (b. 1950) in December 1982. She was the daughter of Louis R. Ross and Aldora Esma Arcement. They divorced in November 1998. (HARCO, Ms. 2nd Judicial District MRB 25, p. 354 and HARCO, Ms. Chancery Court Cause No. 98-0927)
In October 2001, prior to his demise, several cancer benefits were held for Billy at Biloxi and D'Iberville.(The Bay Press, October 12, 2001, p. 6)
Billy Bellande passed on at Biloxi on January 22, 2002. He was of the Lutheran faith. His corporal remain were interred in the Biloxi City Cemetery.(The Sun Herald, January 23, 2002, p. A-5)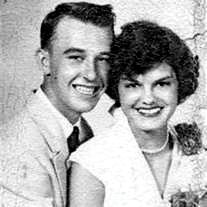 Lane F. Lashbrook (1935-2012) and Martha E. Bellande (1936-2004)
[from The Sun Herald, May 30, 2012, p. A4)
Martha E. Bellande
Martha Elizabeth Bellande (1936-2004) was born April 16, 1936 at Biloxi. She married Lane F. Lashbrook (1935-2012) and they were the parents of three sons: Randell Lashbrook; Lane Joseph Lashbrook; and Timothy Lashbrook. Martha E. Bellande expred on July 11, 2004 at Ocean Springs, Mississippi. Lane F. Lashbrook died on May 27, 2012. Their corporal remains were interred in the Southern Memorial Park cemetery at Biloxi, Mississippi.(The Sun Herald, July 13, 2004, p. A6 and May 30, 2012, p. A4)
Betty Faye Bellande
Betty Faye Bellande (1938-2005) was born at Biloxi on March 27, 1938. She expired at Danville, Alabama on July 20, 2005. On August 4, 1956, Betty Faye had married Hasbur 'Little Red' Wendell Denning (1930-2007), the son of Hasbur J. Hasbur Denning and Jennifer Wedgeworth of Perkinston, Mississippi.(HARCO, Ms. MRB 106, p. 154)
Betty Faye and Hasbur W. Denning were the parents of: Joseph H. Denning, Mary Denning Rogers, and Sandra Denning Kleas. Betty Faye Denning expired at Danville, Alabama on July 19, 2005. She was a member of The Church of Jesus Christ of Latter Day Saints. Her corporal remains were interred in the East Lawrence Memorial Gardens Cemetery.( The Sun Herald, July 22, 2005, p. A8)
Hasbur W. Denning expired on October 16, 2007 at his home in Danville. Alabama. He was born Dec. 8, 1930, in Biloxi, Miss. to the late Hasbur Joseph Denning and Jeniever Wedgeworth Denning. He was a member of the Church of Jesus Christ of Latter-Day Saints. He retired from the U.S. Air Force as a master sergeant after 23 years, with service in Cambodia, Vietnam and North Korea. He was preceded in death by his wife, Betty Faye Bellande Denning, his parents, and two brothers, David Denning and Everett "Big Red" Denning. A military graveside service for Hasbur W. "Little Red" Denning, was Friday, Oct. 19, at East Lawrence Memorial Gardens with Bishop Royce Alsup officiating and Hartselle Heritage Funeral Home directing.(The Hartselle Inquirer, October 16, 2007)
Billy Ray Bellande Sr.
Billy Ray Bellande Sr. (1938-2009) was born at Biloxi on March 27, 1938. He married Ida "Sue" Ashworth Watford Bell (1936-1997), a native of Royston, Georgia. She was the daughter of Patrick Ashworth and Ila ? Ashworth Bennett. Sue Bellande was the mother of: Billy Ray Bellande Jr. (b. 1964) m. Stephanie A. Munoz (b. 1969); Annette Bellande; Teresa Gayle Watford Jones; Bettye Sue Watford Scarbrough; Janice Park; Roy Alvin Watford; and William Dennis Watford (1959-2000). Billy Ray Bellande died on July 8, 2009 at Mobile, Alabama. He was a US Navy veteran of the Korean War and had worked as a Biloxi shrimper and boat captain. Billy Ray Bellande was a member of the VFW and Fleur-de-Lis Society. His corporal remains were interred in the Biloxi City Cemetery.(The Sun Herald, July 10, 2009, p. A4)
4. Joseph Bellande Jr. The fate of this son is unclear. A note was found among his father's papers saying Joseph died October 28, 1851. No mention of his death is found in the Family Bible.
5. Clement Bellande (1850-1918) maintained residences in both New Orleans and Ocean Springs. He lived near his father on Washington Avenue when he was in Ocean Springs. He made his living as a bartender. Clem Bellande was an excellent sailor and well known in racing circles along the Mississippi gulf coast. At the 1901 Biloxi Regatta, he won the Third Class Fleet (16-19 foot boats) in his catboat, the Davis Brothers. Bellande defeated the regional famous Royal Flush owned by Orey Young of Ocean Springs. Orey Young once said: "The Royal Flush, if loaded with the prize money she has won, would certainly sink". The defeat of the Royal Flush by Bellande precipitated a match race on a triangular course set in Biloxi Bay off Ocean Springs. The merchants of Ocean Springs offered a cash prize of $700, and the afternoon of the race was declared a general holiday in that town. The Royal Flush won by two minutes and one second over the Davis Brothers and Josephine. According to Walter F. Fountain, another match race resulted in which the Davis Brothers beat the Royal Flush by 12 seconds.
Clem Bellande married twice, first to Lydia Miller (1844-1902). They had a ward living with them in the 1900 census, eleven-year old Olpha M. Jackson. The Daily Herald of July 20, 1916 reported the marriage of Offie Mae Bellande, the daughter of Captain and Mrs. Bellande, a well-known family of Ocean Springs, and Edgar Martin, an efficient employee of the L.N. Dantzler Lumber Company being now stationed at Indianola, Mississippi. In 1885, Joseph sold Clement some land on Porter Avenue. Much later, when widower Clement married a second time, to Lucille Vinot of New Orleans, he apparently spent most of his time there, living at 823 Royal Street. There he was a grocery wagon driver. They had no children. He died May 19, 1918, and is buried in Ocean Springs. His wife remained in New Orleans and died in 1949. She received a settlement from the 1926 land settlement.
6. Antoine Bellande (1852-1881) lived in New Orleans on 224 Magazine Street. Nothing further is known about him. No heir of his is mentioned in the 1926 land settlement. His death is recorded in the family Bible as May 4, 1881.
7. Roseale Azalie Bellande (1854-1923) had the misfortune of marrying as man who deserted her. On January 29, 1880, at her father's house she married Michael Reus. She had three children: Joseph Michael Reus (Feb-April 1881), Bruno Reus (1882-19 ) and Marcellus Reus (1884-1905). While she was pregnant with the last one, she went to her father's house for her confinement at her husband's request. During her absence, Michael sold their house and possessions and left. Azalie filed for divorce on grounds of desertion, and it was granted in August of 1890. She lived at her parent's house until the time of her father's death, in 1907. She inherited the house, but later moved to Mobile, Alabama, and lived there with her son, Bruno Reuss, and his family.
Her son, Marcellus "Mike", was described by The Pascagoula Democrat-Star as a "wild lad" on November 11, 1897, when he was severely injured about the head and body at Ocean Springs when he fell off an L&N freight train. Mike was attempting to steal a ride to New Orleans. He married and had a son named Robert Reuss (b. 1904). His wildness was corroborated in 1905, as Marcellus died, gunned down in a street fight at Ocean Springs on Friday, October 13. His very young widow Lillian, a child bride, decided she was unable to raise their son alone, so Robert grew up with his cousins, the children of Bruno. (She apparently did not remarry, for she received a settlement in the 1926 land dispute, and was referred to as Mrs. Lillian Reus, of Ocean Springs). Bruno worked for the L&N Railroad on the New Orleans to Mobile run. He had six children, who live in the Mobile area, (some still in the original house Bruno bought) and have possession of the Family Bible and other old documents. Their names are Azalie Reus Kossow, Annie Carmelite Reuss, Euphemia Reuss, Carmelite Reuss, Celestine Reus Sawyer, and Charlie Reuss. In the 1926 land settlement, Bruno Reuss, Lillian Reus, and Robert Reuss received their share.
8. Jean Nestor "John" Bellande (1852-1895) was apparently a wanderer. His profession is unknown, as is his marital status. His addresses were recorded in the Family Bible, without dates, as Prudhomme City in St. Landry Parish, Louisiana (this place no longer appears on current maps but was shown on a map from 1880), and 518 1/2 Carcroft (?) between St. Andrew and St. Mary Street in New Orleans. He also lived in or visited Houston, Texas, where his youngest sister Zoe and her family lived. Why either of them went there is unknown. In any case, John died there on April 5, 1895, of consumption. He was buried in Ocean Springs. He had been a member of the Knights of Pythias. No descendants were mentioned in the 1926 land settlement.
9. Laura Eveline Bellande lived in New Orleans in 145 Washington Avenue. There she probably met and married Adam Bultman and had at least three children. By the time of the 1926 land settlement she had died, and her heirs were given as Adam Bultman, Viola Bultman, and Mrs. Annie Bultman Kinchman all of 917 7th Street in New Orleans, and Adam Bultman, Jr. also of New Orleans, address unknown.
10. Adolph Bellande 1861-1897) lived in New Orleans on Constance Street, first at Number 36, then at Number 1126. According to the obituary published in The Daily States of November 28, 1897, he had lived there for 20 years. He was first employed by Messrs. A. Baldwin and Co. and then with the J & P Coats Thread Company. He was a member of the Catholic Church and the Young Men's Mutual Benefit Society. The obituary, which includes a line drawing of Adolph with a very large mustache states, among other things "Last Sunday night death claimed another victim which takes from New Orleans a valued citizen, from a prominent firm a trusted employee, from a wife a loving husband, and from his children a fond father, Adolph Bellande.has succumbed to those immutable laws which none may gainsay. His illness was of short duration, for the end came quickly and was a sad blow to his wife and friends who were not prepared for the result, as Mr. Bellande possessed a strong constitution. He began sinking rapidly, and half an hour past midnight on Sunday grim death had claimed its own." His widow, Amelia Peters (1858-1917) had just grieved the loss of their ten year old son Adolph Jr. (1887-1897) four months before. And sometime during this year, their last child Albert was born. Their first child, Louisa Eveline (1885-1888) had only lived for three and one half years. Two children did grow into adulthood: 1. Eugene Henry (1890-1952) and 2. Albert J. (1897-1951). Both of them received a settlement in the 1926 land dispute. Both of them married and raised families in the New Orleans area, and were involved with police work.
1. Eugene married Antoinette Cuccia (1912-1966) and had two children, Louise E. Singer and Joseph Albert. He apparently worked for the sheriff's office, as did son Joseph who died in 1965.
2. Albert married Agnes Duffy (1899-1967) and had two children, Albert, Jr. and Adolph Morton. He apparently worked for the State Registration Department. Albert Jr. married and had at least two children, and was a policeman. He currently lives in Picayune, Mississippi. Adolph (1922-1967) married Geraldine Durin and had two children, Belinda Ann and Catherine Ann of New Orleans. Like his great grandfather Joseph, his work involved the sea, he was probably employed with the Delta Steamship Company.
11. Zoe Bellande 1863-1897) married a fisherman, Maurice Adolphus Simmons (1862-1916), son of Joseph B. Simmons (1824-1886) and and Harriet H. Badon (1842-1920) on December 8, 1881. The Simmons family moved to Ocean Springs circa 1872, probably from Covington, Louisiana. Mr. Simmons was a carpenter while Harriet helped support the family working as a seamstress.
Zoe and Maurice Simmons lived in Ocean Springs for a while, at least until 1886, when they bought property from Joseph Bellande, near Porter and Bellande Avenue. Their first child, Geneva Eliska, was born December 2, 1882. She was followed by Harriet Rosalie on March 31, 1884, and George Curtis on February 18, 1886. Sometime later, Maurice loaded his possessions, wife, and young children into a cart drawn by a mule and headed west. They settled in Houston, Texas on 1815 South Street, which is now obliterated by Interstate 45 north of the downtown area. While he was an accomplished carpenter, he made his living as a fisherman in Galveston Bay and even had a house on a small island there. It was known as Simmons Island in his honor, located across from Seabrook. Both the island and house no longer exist, having sunk sometime after 1915, the victim of a hurricane.
Wife, Zoe, had five more children in Houston: Elwood Raymond (b. September 23, 1890), Stella Edith (date unknown, stillborn?), Claude Elmer (b. 14 August, 1893); Farrely Allen (b. 11 June, 1895) and Clara Zoe, (b. and d. October 1897). Zoe died of "blood poisoning" several days later on the 27th of October. She is buried in the Hollywood Cemetery in Houston. Four of her children received a settlement from the 1926 land dispute: 1. Geneva Eliska, 2. Elwood, 3. Claude and 4. Farrely, all residing in the Houston areas.
1. Geneva Eliska (1882-1977) married Allen Thomas South (1869-1948), a railroad worker and nurseryman from Missouri. They remained in Houston and had three children:
1. Warren Wren (1904-1950) who worked at the Warwick Hotel and married Mary Jennings Hessen (no children).
2. Allen Thomas Jr. (1907-1948), a telegraph operator, who married Emma Elizabeth Brenner (1910), and had two children John Russell (1938), an insurance adjuster, and Douglas (1941), an electrician. Russell married Fern Yvonne Whitehead and they have three children: Susan Carol (1961), married to Keith White (1958), with daughter Ashlie Kay (1987), Jerry Lynn (1963) married to Joel Allen Lee (1964), and John Russell, Jr. Douglas married Maebeth Prichard in 1960 and their two children are Troy Douglas (1962) and Christina Beth (1968). They are still in the greater Houston area.
3. Ora Clotile (1913) married Samuel Floyd Good, a Shell Oil Co. refinery engineer and had two children, Paul Allen (1947), a research engineer for Shell, and Carolyn Elaine (1949), an archaeologist for the Army Corps of Engineers. Ora Clotile was a school teacher and taught high school biology for many years. Paul married biologist Heidi Balje in 1972 and they have four children: Sebastian (1975), Adriane (1979), Marian (1982), and Elisabeth (1983). They all live in the greater Houston area.
2. Harriet Rosalie (1884-?) married John Lewis Garney and had five sons, Develle, Woodson Maurice (1904-?), an oilfield salesman, John Palmer (1913-?), Claude Elwood (1915-?), an electrician, and Patrick Warren (1918).
3. Elwood Raymond "Son" (1890-?) married Thelma Alice Anderson in 1911. They had two girls, Cecilian (1916) and Margaret (1919). Margaret married Charles Merle Royal and has one son, Terry Lance (1939).
4. Claude Elmer married Bess Marie Hill-Owens in 1917 and they also had two children, Jr. (1918) and Ruth Marie (1923).
5. Farrely Allen married Annie Lydia Laue in 1928 and had a son named William Maurice born in 1932.