Croatian arrivals from Trogir [Trau-Italian], Split-Dalmatia County-Gruich
Croatian arrivals from Trogir [Trau-Italian], Split-Dalmatia County-Gruich
Image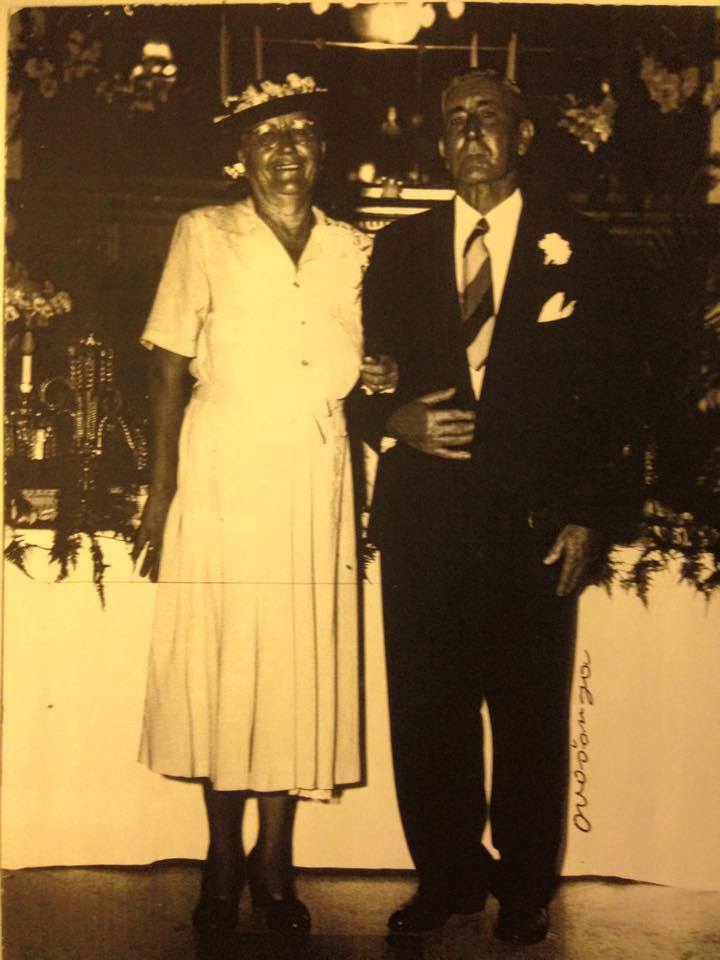 osarep
Mon, 12/31/2012 - 13:51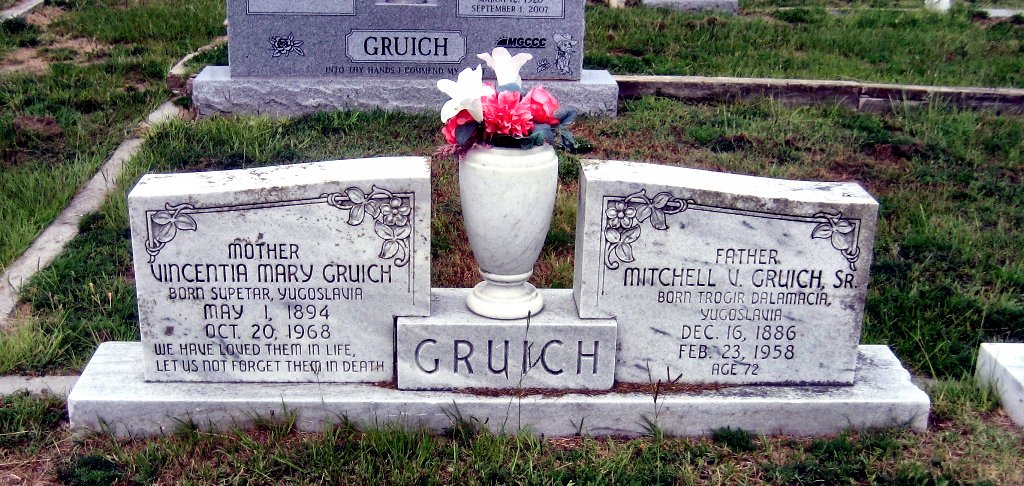 Biloxi Cemetery-June 2012.
GRUICH [GRUIC]
Mitchell Valentino Gruich (1885-1958), native of Trogir, Split-Dalmatia County, Croatia was the founder of the Gruich family of Biloxi, Mississippi. On

May 18

, 1906, he stowed aboard the SS Carolina deporting Trogir and arrived at New Orleans on

June 22

, 1906. Mitchell left immediately for Biloxi where he settled at 235 Cedar Street and became employed in the seafood industry. Mr. Gruich was naturalized at Biloxi on

February 20

, 1922. His certrificate of American citizenship was recorded as No. 151110.(Mitchell V. Gruich III; Southern District Court-South Mississippi-Petition for Naturalization No. 274-

June 10

, 1921 and

February 20

, 1922).
Research of Mitchell V. Gruich III
Mitchell Valentino Gruich's birth name was Mihovil Ivan Gruic when he was born in Trogir. His parents were Augustin Gruic and Maria Stipcic who lived in Trogir. Mihovil had one sister, Ivanica Gruic and two brothers, Anton and Ivan, back in Trogir.

When me and my father and two uncles visited Trogir last year we met some of our cousins that still lived there. They told us about the family history in Trogir. I also went to the church archives and retrieved my great grandfather's birth record. So that is how I know his actual correct birth date. The birth date on his tombstone was wong. Also, his name was really Mihovil, which is Michael in Croatian. So when he was going through immigration in New Orleans and they asked him what his name was, he was trying to pronounce it in English as Michael, but because of the way the Croatians say Michael, it comes out sounding like Mitchell. So those were the only corrections to the information pertaining to him. I added who his parents and siblings were that he left in Trogir. Also, he stowed away on the S.S. Carolina. This was confirmed by our Trogir cousin's father who received a letter from him after he had arrived in America. They thought he was dead because they had not seen or heard from him in months. Steamships would stop in Trogir to fuel up or load up on supplies before heading to Trieste or back out to sea to America. We have several postcards and photographs that show depictions of the steamships docking in Trogir for supplies. Everything else listed was accurate about him
.(from Mitchell V. Gruich III by e-mail on 1 July 2016)
Mitchell V. Gruich married Vincentia Mary Barhonovich (1894-1968), a native of Supetar, Brac, Split-Dalmatia County, Croatia in Harrison County, Mississippi on May 20, 1914. They were the parents of: August Gruich (1915-1993) m. Mable Stratton (1912-1996); Mary Sophia Gruich (1916-1998); Antonio "Tony" and 'Captain Breezy' Gruich (1918-1996) m. Joyce Miller (1925-1990); Frank Gruich (1920-2007) m. Grace Bodie; and Mitchell J. Gruich (1928-1998) m. Leoneade M. Lestrade (1929-2005).(Harrison Co., Mississippi Circuit Court MRB 27, p. 24)
Children
Antonio Gruich
Antonio [Tony] "Captain Breezy" Gruich (1918-1996) was born at Biloxi, Mississippi on 1918. He married Joyce Miller (1925-1990) and made his livelihood as a commercial fisherman. Tony was a member of the Slavonian Benevolent Society and Our Lady of Fatima Catholic Church. he died on May 18, 1996 at Biloxi and his corporal remains interred in the Biloxi Cemetery next to his wife. Mr. Gruich was survivied by Marie Gruich, a sister; and two brothers, Dr. Frank Gruich and Mitchell Gruich Jr, all of Biloxi. He was preceded in death by his parents; wife; and August Gruich Sr., a brother. Bradford-O'Keefe Funeral HOme of Biloxi directed the funeral services.(The Sun Herald, May 18, 1996, p. C-2)
Marie S. Gruich
Marie Sophie Gruich, age 82 years, died Saturday, December 26, 1998, in Biloxi. Marie Gruich was a lifelong resident of Biloxi and retired after many years as a waitress at the Buena Vista Hotel, the Broadwater Hotel and the Friendship House. She was a member of St. Michael's Catholic Church.
Marie was preceded in death by her parents, Mitchell V. and Vincentia Mary Gruich; and three brothers, August ''Gig'' Gruich Sr., his wife, Mable, and their son, Mitchell P. Gruich, Tony ''Breezy'' Gruich and his wife, Joyce, and Mitchell J. Gruich Sr.
Survivors include a brother, Dr. Frank G. Gruich Sr. and his wife, Grace Gruich, of Biloxi; six nieces; nine nephews; 12 grandnieces; 17 grandnephews; and a sister-in-law, Leonade Lastrade [sic] Gruich of Biloxi. Services will be Monday at 2 p.m. at St. Michael's Catholic Church, where friends may call two hours before service time. Burial will be in Biloxi City Cemetery. The Howard Avenue Chapel of Bradford-O'Keefe Funeral Homes in Biloxi is in charge of arrangements.(The Sun Herald, December 27, 1998, p. A-17)
Dr. Frank G. Gruich Sr.
Dr. Frank G. Gruich, Sr. was born into this life on March 12, 1920, on Point Cadet, Biloxi. He was born through death into everlasting life on September 1, 2007 at Biloxi Regional Medical Center.
Dr. Gruich surmounted huge challenges from working in his grass roots in the shrimp factories to launching his life's love and passion for knowledge and education in medicine. He always credited his Perkinston Junior College days as the catalyst for his career. He graduated from Tulane University Medical School in 1945. He served his internship at Charity Hospital in New Orleans. He then served two years as a Medical Officer in the Army.
Upon his discharge as a Captain, he became associated with Dr. Joseph Kuljis in Biloxi and practiced general medicine from 1948 -1952. Dr. Gruich underwent his specialized training in Obstetrics and Gynecology from 1952-1955 at the Confederate Memorial Hospital in Shreveport, Louisiana, where he served as Chief Resident his senior year. Dr. Gruich went on to enjoy a distinguished career in medicine that spanned six decades.
Among his many recognitions a highlight in his life was his induction into the 1979 Mississippi Gulf Coast Junior College Hall of Fame at Perkinston Campus, receiving the Sam Owen Award also from Perkinston, and serving on the Mississippi Gulf Coast Community College Board of Trustees for over twenty years. He also served for over twenty years on the advisory board of BankCorp South. In 2006 the new surgical suite at Biloxi Regional Hospital was dedicated to him where he served as Chief of Staff many years.
Dr. Gruich championed the efforts to keep Catholic education a viable option for all. He served for 39 years on the Catholic School Board always offering his reflective advice and counsel. He remained a stalwart ambassador for the Mississippi Gulf Coast Community College, his beloved Ole Miss, his faith, and Catholic education.
All who know Dr. G. knew of his passion for sports second to none was football. Home life and Sunday dinners were scheduled around "kick-off" as he rooted for his Ole Miss Rebels and New Orleans Saints. In baseball, the Atlanta Braves were his team. He also took on the professional teams, the Indiannapolis Colts and the New York Giants, as he continued to support the Manning boys.
Dr. Gruich is survived by his beloved wife and life partner Gracie "Bo" Bodie Gruich [1926-2018]; his children: son, Frank G. Gruich, Jr. of Biloxi; daughters: Maureen Gruich of Madison; Suzanne and her husband Dave Prokopchuk of Cypress, Texas; and Mary Grace and her husband Joe Marquardt of Houston, Texas.
Dr. Gruich was blessed with seven grandchildren: Frank Jr.'s children: son, Frankie, III; daughter, Bonnie; and son, Nick & his wife April all of Biloxi; Maureen's daughters: Erin Propst of Madison and Ryan Claire Propst of Tupelo; Mary Grace's sons: Maxim and Cooper Marquardt of Houston, Texas.
Dr. Gruich was preceeded in death by his parents: Mitchell Gruich Sr. and Mary (Bohonovich) Gruich; brothers: August "Geagle", Tony "Breezy", Mithcell, Jr., and sister Marie. The family expresses deep gratitude for your love and prayers in this enormous loss.
Memorials can be made to the Dr. Frank G. Gruich, Sr. Scholarship Fund at St. Patrick's Catholic High School or to his beloved charity, The Little Sisters of the Poor, 1655 McGill Avenue, Mobile, AL 36604.1299.
A Mass of Christian Burial will be held Tuesday, September 4, 2007, at 3 p.m. at Our Lady of Fatima Catholic Church in Biloxi where friends may visit from 1 p.m. until service time. Interment will follow in Biloxi City Cemetery. The Howard Avenue Chapel of Bradford-O'Keefe Funeral Homes in Biloxi is in charge of arrangements. (The Sun Herald, September 3, 2007)
Dr. Frank Gruich: Dr. G just loved being a doctor
[from The Sun Herald (Biloxi, Mississippi) - Sunday, September 2, 2007, p. A-12]
Dr. Frank Gruich, who rose from poverty on Point Cadet to success and esteem as a local obstetrician and gynecologist, died Saturday. Gruich, 87, was the son of Yugoslavian immigrants who labored hard in the seafood industry. His character was forged as a young man during the Great Depression. He studied hard and made his way to Mississippi Gulf Coast Community College at Perkinston, where he gained attention for his skill at chemistry, despite never having taken a chemistry course in high school.
At Perkinston, Gruich was given a medal as the best chemistry student in the state. From MGCCC he went on to the University of Mississippi, where he earned a scholarship from the Kellogg Foundation. He joined the Army, which also helped pay for his education.
Gruich later made his way to Tulane's medical school, and after going to work the young doctor cherished his new job title. He carried that pride with him the rest of his life. "He was absolutely identified with his practice of medicine," his daughter, Maureen Gruich, said. "That is who he was."
He was also a fierce advocate of Dr. Gilbert Mason, a black colleague who became a local civil rights activist and staged a much-publicized assembly on the beach in 1960. When Mason was under fire at Biloxi Regional Medical Center over his activism, Gruich stood up for him and reminded the hospital's administration of the law. A poor boy from the Point, Gruich could identify with being disadvantaged.
After retiring in 1997 and delivering well over 5,000 babies, Dr. G, as Gruich was known, continued to pay a daily visit to Biloxi Regional to visit old friends and co-workers. He gave weather reports to personnel in the medical-records office, which earned him the nickname "The Weatherman." He also had a free lunch each day at the cafeteria, which was never begrudged him, considering his contributions to the place.
During his visits to the hospital, Gruich would also buy lunches for a couple of hospital workers he knew were having a hard time making ends meet. "He remembered being hungry in med school," his daughter said.
Gruich is survived by his wife, Gracie, and his four children. Many of his relatives entered the medical profession because they were inspired by Dr. G's success.
The doctor was a big supporter of local schools, particularly Mercy Cross, but he also looked forward to the opening of the new St. Patrick Catholic High School. Gruich served on the MGCCC Board of Trustees and was loyal to Ole Miss. His own academic triumphs over adverse circumstances led Dr. G to believe that in this country a degree was within anyone's reach. "Education meant everything in the world to him," Maureen Gruich said.


Gracie Mae Bodie "Bo" Gruich [1926-2018]
Grace B. Gruich, a long time resident of Biloxi, died on Sunday, December 2, 2018 after a brief hospital stay.

Gracie, 92, was the youngest daughter and sole remaining child of ten siblings of the late Alonzo D. Bodie (Mississippi) and Althaia Smith (Alabama). She was born and raised in Wiggins, MS. She called herself a country girl of very humble origins. Her late husband referred to her as his Pickle Queen. Wiggins was once regarded as the pickle capital of the world.

Gracie received her RN license from a diploma nursing school at the "New "Biloxi Hospital on the front beach. She entered school on a scholarship of WWII The Cadet Nurse Program. After practicing at the New Biloxi Hospital she left her nursing career to be a full time wife and mother.

She entered the Roman Catholic faith prior to her marriage. In years to come, Gracie claimed that marrying Dr. G. and living in the Catholic faith were two of the most wonderful gifts she received from her husband. She was very appreciative of her faith practice. She loved the prayers and meditations of the rosary and the rosary was a daily prayer for her.

Her husband was the late Dr. Frank George Gruich, Sr of Biloxi, MS. They had four children: Frank G. Gruich, Jr., Dr. Maureen A. Gruich, Suzanne B. (Dave) Prokopchuk, Mary Grace (Joe) Marquardt. Seven grandchildren: Frank G. Gruich, III, Bonnie Elizabeth (Brent) Fountain, Nicholas Paul Gruich, Sr.; Erin Althaia Propst (Brian) Burke, Ryan Claire-Marie Propst (Cole)Wiygul; Maxim George Marquardt and Cooper Joseph Marquardt. Nine great-grandchildren: Nicholas Paul Gruich, Jr., Aleigh Rachelle Gruich; Carter Andrew Fountain, and Chase Joseph Fountain; Tyler Ernie Burke, Lance Corporal Montana Blake Burke, Caroline Grace; Mae Marie Wiygul, and James Coleman Wiygul, Jr.

Past times and hobbies for Gracie included: Keeping up with and visiting her hometown Wiggins and Stone County, the daily paper crossword and word search. She was an avid football fan for the University of Mississippi-Ole Miss and the New Orleans Saints!! Her 90th birthday celebration had an Ole Miss theme. In the spirit of celebration and Mardi Gras, Gracie was a member of the Young Matrons with their annual carnival ball! She loved to enjoy the reruns of The Andy Griffith show and current and syndicated game shows. Other past times included tending to the yard gardens and keeping the birds fed. And most importantly having her family visit and enjoying the grands, great-grands and eating great food. Gracie had a knack for bringing light and laughter to gatherings. Many remember her as precious, fun, and loving to laugh.

Visitation will be at Our Lady of Fatima Catholic Church on Pass Road from 10:30 to 11:30am followed by a Mass of Christian Burial at 11:30am all on Thursday, December 6, 2018. Interment will follow at Biloxi City Cemetery.

In lieu of flowers please choose a charity of your choice
or contribute to the Dr. Frank G. Gruich, Sr. Scholarship Fund at St. Patrick's Catholic High School in Biloxi; The Little Sisters of the Poor, Mobile, Alabama.

The family offers special thanks to Kathy Foster, Carolyn Cauthen, Audrey Boudreaux, and Rose Alexander for their loving care for Gracie. We will forever miss and love her and offer to you her chants: Hotty Toddy!! & Who Dat!!! The Howard Avenue Chapel of Bradford-O'Keefe Funeral Home is in charge of arrangements.[The Sun Herald, December 5, 2018]
Mitchell J. Gruich
Mitchell Joseph Gruich Sr. (1928-1998), age 70 years, died Saturday, Aug. 29, 1998, in Biloxi. Mr. Gruich was a native and lifelong resident of Biloxi. He was a member of Nativity B.V.M. Catholic Cathedral. He was a member of the Bricklayers Trowel Trades International Local No. 10, BPOE No. 606 and past president of Biloxi Southern Little League Baseball. Mr. Gruich was an Army National Guard veteran.
Mitchell was preceded in death by his parents, Mitchell V. Gruich and Mary B. Gruich; and two brothers, August ''Geagle'' Gruich and Tony ''Breezy'' Gruich. Survivors include his wife, Leoneade Lestrade Gruich; a daughter, Michelle Logan, both of Biloxi; six sons, Dr. Charles Gruich, Dr. Mitchell Gruich Jr., Joseph Gruich, Thomas Gruich, Anthony Gruich, all of Biloxi, and James Gruich of Ocean Springs; a sister, Marie Gruich; a brother, Dr. Frank Gruich of Biloxi; and 19 grandchildren.
Visitation will be from 6 to 9 p.m. Monday at the Howard Avenue Chapel of Bradford-O'Keefe Funeral Homes in Biloxi, with recitation of the Rosary at 7 p.m. A procession will leave the funeral home at 9:45 a.m. Tuesday for a 10 a.m. Mass at Nativity B.V.M., with burial in Biloxi City Cemetery.(The Sun Herald, August 31, 1998)
Leoneade M. Gruich
Ms. Leoneade M. Gruich, 75, of Biloxi, MS passed away Tuesday March 8, 2005.
Ms. Gruich was a lifelong resident of Biloxi. She was a devoted wife, beloved mother and cherished grandmother who most enjoyed being with her children and grandchildren, especially during holidays. She was a woman of faith and a devout Catholic.
Ms. Gruich was preceded in death by her husband, Mitchell Gruich and parents, Charles P. Lestrade and Henrietta Dellenger Lestrade.
She is survived by her daughter, Michelle Logan of Biloxi and six sons, Dr. Charles Gruich and his wife Madelon, Dr. Mitchell Gruich, Jr. and his wife Janice, Joseph Gruich and his wife Wendy, Thomas Gruich and his wife Lola, Anthony Gruich and his wife Jan, Dr. James Gruich and his wife Stephanie, and also her sister, Ms. Shannon Covich, all of Biloxi. She is also survived by her 21 grandchildren.
Visitation will be on Friday March 11, 2005 from 6pm until 9pm at the Howard Ave. Chapel of Bradford-O'Keefe Funeral Home with Recitation of the Rosary at 7pm. Services will be on Saturday March 12, 2005. A procession will leave the funeral home at 9:45 for a 10 am Mass at Nativity B.V.M. Cathedral. Burial will be held at Biloxi City Cemetery.(The Sun Herald, March 11, 2005)
First Gruich trip back to Croatia in over 100 years
By Mitchell Gruich III
The real adventure in discovering my family history started when my wife booked us a trip to Croatia. While we were engaged, we had talked about all the places we would like to visit after we were married and before we had any kids. Her number-one place to visit was Italy. My number-one place was Egypt, but with all the turmoil there at that time, there was no way she was going to Egypt. My number-two pick was Croatia because I'd always wondered what it would be like to see my great-grandparents' home country. As far as the Gruich family in Biloxi knew, we had lost touch with any relatives in Croatia sometime in the 1970s, and no one knew if there were still any relatives living there currently. We only knew that my great-grandfather came from Trogir, but we were not sure if his family had lived in Trogir all their lives or if they had migrated from another part of the country.
My wife found a reasonably priced travel package that would allow us to see the whole country from top to bottom in the span of two weeks. The next thing I knew, my sister and her husband were on board to take the trip – we would be sight-seeing the entire country together. We would arrive in Croatia in November 2014, a week before Thanksgiving. This would be a historic moment for the Gruich family of Biloxi because no one from the Biloxi family had been to Croatia since 1906, when my great-grandfather left Trogir to immigrate to America. It had been more than a century since a descendant of Mitchell Gruich of Trogir had returned to the homeland. I was beyond excited to see all the different regions of Croatia. Our trip included visiting major coastal cities like Zadar and Split. Since we would be in Split for a day, I decided we should skip that day's activities and go to Trogir instead. Trogir was only a 20-minute drive from Split, so I figured we could see Trogir, take some photos, and be back in Split in time to catch the bus to Dubrovnik. I had no expectations of uncovering any long-lost relatives or finding any information on my great-grandfather's family – I hadn't really found anything online, and all of the Trogir offices only spoke or wrote in Hrvatski. The idea was just that we might as well see the whole country since we probably wouldn't have much luck finding anything in Trogir. I think this was the Biloxi family sentiment for a long time about finding relatives in Trogir. If I did happen to find anything, it would be pure dumb luck at best.
I told Uncle Jamie about my plans to sight-see in Croatia, and he asked if I was going to try to visit Trogir. I said of course, I planned to at least just walk around and take photos of the little island that was about the size of Hiller Park. Uncle Jamie had one request for me if I made it to Trogir: He wanted me to go to the main church and try to find the birth record of Mitchell Gruich, who came from Trogir in 1906. He hoped that his birth record might tell us the names of his parents and grandparents, so we could finally learn more about our family in Croatia. Accomplishing this strategy was easier said than done. To begin with, my Uncle Charlie said his grandfather (Mitchell Gruich from Trogir) never liked to talk about his family in Trogir or what life was like in the old country. Actually attaining the missing information was going to be quite the task since no one in Croatia understood English except waiters and concierge. We were also putting our money on one church having the birth records from late 19th century. There were five churches on the small island, and we were just guessing that the biggest, oldest one would have the records.
I didn't really have much to go on as far as family information regarding our past in Trogir. What I had to go on before leaving was this:
1. Dad couldn't really tell me any details about Trogir because no one had been back to this town since Nona had left it in 1906. This was 2014, so more than 100 years had passed since Nona left and someone came back to visit.
2. I knew Uncle Charlie was interested in the family tree, so I asked him what he knew. He had sent some correspondence to relatives in Croatia and received a letter, but it was lost in Hurricane Katrina. He said that Nona was reluctant to discuss Croatia with him when he was younger, so no one really knew anything about Mitchell Gruich's life before coming to America.
3. Before leaving on the trip, Uncle Jamie stressed to me the importance of trying to find the records of Nona's family in the church if possible.
I didn't realize how big of a deal it was at the time to find any old records on great-grandparents because no one in the family had ever expressed much interest in knowing more about where we came from, other than my two uncles and father. The more I thought about it, the more interested I became in this family mystery. Discovering or solving old historical mysteries with clues was something that intrigued me. A year earlier my wife and I had been investigating an old plantation site to locate the remnants of a Civil War soldier's tomb that had been lost to time. We eventually found what was left of that tomb and presented the evidence to the historical department at USM. I've always been intrigued by history, but when it comes to something I can make a contribution to personally, I get even more excited. Even if I couldn't get the records, the least I could do was take pictures of the town to share with my family. Having an appetite for adventure and the means to explore a small foreign island was definitely something I couldn't wait for.
I had heard of a "walk into a church and ask for records" strategy from other families who had visited Croatia looking for documentation of their heritage. It is actually common for tourists and visitors to contact parish priests looking for records of their ancestry. This is a pretty good plan if you have some basic pertinent information to go by, but it can be an absolute nightmare if you don't know exact names or dates. Having dates, whether they be birth, death, or marriage dates, is absolutely necessary for the church to help you. Without any dates for reference, there is no way they can know where to start looking because they don't have a global database. Having a translator or speaking the language is also very necessary since most Croatians don't speak or understand English. The only Croatians we found that could speak English fluently were those in the service industry, and you had to go to a tourist cafe to find someone who could speak English well. This meant that translating was going to be a problem for me. Croatians prefer their native language – even under the oppression of Italy and France they ignored mandates to learn Italian and French.
November 21, 2014
The first day of the trip put us in Opatija, which is in the northern part of Croatia, near the city Trieste. I mention Trieste here because it is important as it relates to the passenger manifest of the S.S. Carolina. The S.S. Carolina is the steam ship that Mitchell Gruich from Trogir arrived on when leaving Austria in 1906. The S.S. Carolina disembarked from Trieste on May 18, 1906. Jamie Gruich, my youngest uncle, did a little bit of research on the S.S. Carolina. He found the departure log that lists the passengers when the S.S. Carolina docked in New Orleans. Jamie is also responsible for finding Mitchell Gruich from Trogir's registration card with the state as an alien.
My wife was very sick with a sinus infection at the beginning of our trip. The first day in Croatia, she slept on the bus and went back to sleep as soon as we ate dinner at the hotel. The next day she only had enough energy to get up and walk to get some lunch and back to the hotel. It would take another three days before she started feeling good enough to be able to actually enjoy our little adventure in Croatia. We spent two nights and one day in Opatijia and then left the next morning to head down to Zadar.
Below is a copy of the passenger manifest on the S.S. Carolina that lists Michele Gruich, age 21, from Austria arriving at the port of New Orleans on June 18, 1906:
Below is the 1918 registration card that marks Mitchell Gruich as an alien. You will notice that his name is spelled Mitchel Gruich, yet he signs it as Mickel Gruich. He writes Mickel because he was trying to write what he thought was Michael. He also lists his birthday as December 16, 1885, which is incorrect. We are not sure if he was under the impression that was his birthdate, if he was confused with another date, or if he just picked that date out of thin air. It was not custom to celebrate birthdays in Trogir in the early 20th century, so it may have just been a formality for him to pick a date close to what he remembered his birthdate to be. Later on I discovered his actual birthdate was November 27, 1885, and that he was baptized on January 3, 1886.
November 23, 2014
The third day of the trip put us further south in Zadar, on the coast of the Adriatic Sea. Zadar is where they have the famous sea organ. The sea organ has several holes or pipes in the seawall, and each pipe is a different length. As the waves crash into the pipes, it sounds as if the sea is playing an organ. Zadar was just a midday pit-stop for us to take a break on our way down to the city of Split. Split is about 30 miles from Trogir. Trogir is the name of the birth place written on the tombstone of Mitchell V. Gruich in the Biloxi cemetery.
While we were in Zadar, I wanted to test the "walk into a church and ask for records" idea to see if it worked.
There was a huge church not far from the promenade in Zadar. I walked in, found a priest, and asked him if he spoke English. He said yes. I asked him where the church baptism records were. He pointed me to the baptismal font. I said, "Ne [no]. Baptism books?" He was confused and didn't understand, so he directed me across the street to the monastery to ask one of the monks. I went and found the monks and asked one of them about baptism records, and it turned out none of them could speak English. Then one of them said, "Baptism?" I said, "Da [yes]! Da!" and they told me to go back across the street to the church. Disappointingly, the test was unsuccessful and only heightened my skepticism that I would find church records in Trogir.
We arrived in Split around 7 pm that night. I made arrangements at the front desk of our hotel for a taxi with an English- speaking driver to pick us up at 5:30 the next morning to take us to Trogir. My wife and I were exhausted because it had taken the whole day to travel in a bus from Zadar to Split. We set the alarm for 4:30 am so we could have time to put our bags out and get ready for the long day, which meant we were going to be functioning on about four hours of sleep. It was about midnight when we finally got settled. I hardly slept at all that night because I was so excited to finally visit
this mythical town that my great-grandfather came from so long ago. My sister and her husband decided not to go on the offbeat trip to Trogir with us the next day, and instead they went to see the sights of Split with our tour group. It would just be me and my wife on this little adventure.
November 24, 2014
The taxi was waiting for us the next morning when we got downstairs. It was a Monday and still early, so no one was on the road, and it only took us twenty minutes to get to Trogir. The sun was still not up when we drove onto the little island, so I got to see what it was like at night for a little while with the warm glow of the street lamps illuminating the ancient stone walls.
We parked on the south side of Trogir, on the island of Ciovo. To give you an idea of the contrast in size of the two islands, if Ciovo was a dollar bill, then Trogir would be about the size of a grain of rice. The taxi driver volunteered to come along and help translate for us. He didn't really speak much English, but he seemed to understand what we were saying. We started our entrance to Trogir by walking across the south bridge. The island is so small that it only takes around 10 minutes to walk from the promenade on the south shore to the north gate. Trogir is comparable in length and width to the size of Hiller Park in Biloxi. The only place that was open this early on a Monday morning in the historical city was a café. We stopped and had some coffee to wait for some things to open. I asked the taxi driver if he could ask the barista if he knew where the Trogir cemetery was. The barista gave him directions, and we left after finishing our cappuccinos. We exited the north gate and walked across the north bridge onto the mainland. The cemetery was a brisk 15-minute walk up a steady hill behind some neighborhoods. Here is what the cemetery looked like as we approached it early in the morning sun:
The groundskeepers were already working on cleaning up leaves and debris before it got too hot. We learned from our tour guide that while it is extremely expensive to have a burial plot in a cemetery in Croatia, the grounds are incredibly beautiful and well kept. The weather that morning was cold enough for me to wear my thermal jacket, but by noontime with the sun out, it was comfortable enough to walk around in a T-shirt. The taxi driver asked one of the groundskeepers if they knew where any Gruich tombstones were located. The groundskeeper then went into the cemetery office as we followed. She opened up a book and as she started flipping the pages, I noticed that there were dozens and dozens of Gruich last names entered into the book. I couldn't believe it – I had never seen so many Gruich last names before! I brought my camera to try to document everything. My first reaction was to ask if I could take a photo of the book. The groundskeeper looked at me like I was crazy. I told the taxi driver to explain I was from America and I was there to find long-lost relatives. The groundskeeper refused to let me photograph the book due to privacy laws. She did at least say where we could find some Gruich graves in the cemetery. So, she pointed us in the right direction, and we found two Gruic gravesites in the west section of the cemetery.
Trogir cemetery office. The cemetery was our first stop in documenting any Gruic families buried in Trogir. November 2014
We spent over an hour in the cemetery taking photos. I knew there was no way to be sure which ones we were related to, so I figured it was best to photograph everything and we could try and figure out any family history later. As for the little cemetery book with all the names in it, I was eventually able to obtain some copies of Trogir birth registries from the Zagreb archives. In the Trogir baptism book for 1880 to 1890, there is also a small miniature notebook that contains about 16 Gruic names, 24 Ivacic names and no Plazibacic names in it. The miniature notebook is a reference book with just names and rubric numbers for each name. A rubric number is the number of the row where that the individual can be found in that baptism book. The mini notebook acts as a cross-reference index with the names from the baptism book in alphabetical order. This was the kind of book I saw in the cemetery, but probably with grave plot locations. A few years after this first trip, I found on a map from 1830 that the little cemetery existed back in the early 19th century.
The below photo is of the baptism registry from Zagreb archives. This particular book covers the 1880 – 1890 birth records. While looking through this book, there appears to have been a small reference notebook that contained all the names of the book listed in alphabetical order correlating with their rubric number.
The below photo is of the tombstone of Anton and Ana Mise Gruic in Trogir cemetery. Anton Gruic was the brother of Mihovil Gruic. I took this photo on my first visit to Trogir. Also buried in this grave is Mihovil and Anton's sister, Ivanica Antonia Gruic. Ivanica Gruic died on October 7, 1958.
The below photo is of the tombstone of Ivan and Niko Bakica Gruic in Trogir cemetery. Ivan married Niko Bakica on November 19, 1925. Niko died in 1949. After Niko passed away, Ivan married her sister Palma Bakica, who helped him raise the two children he had with Niko. This was all information that I found the year after we had visited the cemetery for the first time.
Surprisingly, some of the Gruic graves had photos on them. One of the tombstones had a photo of Anton Gruic, who slightly resembled my Uncle Tom. I thought for sure this had to be a blood relative, but amazingly he was no relation. After an hour of combing the cemetery for Gruic graves, we were only able to find a handful. This was disappointing because I was expecting to find so many more after seeing all the names in the cemetery book. There was no way to know if any of them were actually related to Nona. What I found was that there are also variations of the last name. Some tombs had the Gruic name ending with the letter A or had a J in it. Later on I found out that this was done to establish differentiation between families a long time ago. Over the course of time, their last names changed either intentionally or accidentally.
After visiting the cemetery we walked back to Trogir, where the businesses had begun to open. We only had 6 hours in Trogir before we had to be back in Split to meet with the rest of the group and catch the bus to Dubrovnik. My main objective for this time in Trogir was to get the names of Nona's parents. That was the plan no matter what. If I could get the names from the church, then we could know a little more about Nona's life before coming to America. There was one small problem. Even though Trogir is very small, there are at least eight churches on the island. Most of them are still active, and there was no way to tell which church would have the records. My best guess was to start with the oldest, largest church, the Cathedral of St. Lawrence. The cathedral is situated on the east end of the island in front of the town square. In this square, which is called a trg, there was of course a café. (There are cafes everywhere in Croatia - Croatians love coffee.) The cathedral didn't open until 9 am, so the taxi driver suggested we wait and have coffee in the square until the church opened.
Here are some photos of me waiting in the town square at a little café early in the morning.
At that point we'd been in Trogir for more than three hours. We'd already walked the island and the alleys, been to the cemetery, and had coffee twice by this time. Seeing the tombstones in the cemetery had made me even more excited. I don't think anyone could really understand the bewilderment I felt being there. It was a very surreal feeling. I don't know how else to explain other than that it was a feeling that made you feel complete – that you were at home, or at your grandparents' house. It was all brand new but couldn't feel more familiar. I was on a mission. I felt there had to be something there on the island that I was missing. Destiny was teasing me. I had been to the cemetery, so I knew we had history there. I had seen all the names in the cemetery book! There had to be more. As we sat there drinking our cappuccinos, I just got more impatient with not doing anything.
I couldn't stand sitting still feeling like time was wasting. I told Ashleigh, my wife, that we were on the clock and sitting there was not getting me anywhere. I started looking at the map to see exactly where I could go to investigate and maybe take more photos to have something to show my dad and uncles when I got back if I couldn't find the names in the church. After what happened in Zadar, I honestly did not have high hopes that St. Lawrence would have someone on hand who knew where the old baptism books were. While sitting and being jolted by my second cappuccino, I noticed on the tourist map that we were sitting right across from City Hall. Trogir's City Hall is in an old palace that once belonged to the Duke of Austria. I looked at Ashleigh and said, "Don't move – I'm going to go see if City Hall is open." Ashleigh gave me this crazy look and asked why. I explained that they might have a census of all the people who lived here that I could look at and find Nona's name. I ran over to City Hall and could hear people at the top of the stairs having a meeting. I ran back to the cafe and told Ashleigh that City Hall was open and I was going to see if I could find someone who could help me.
I went up an old marble staircase to the second floor and walked down the hallway to the other side of the building, where I found a woman standing in the doorway of an office with two other women. The woman in the doorway noticed me wandering around and I asked her if she spoke English. She said yes and told me her name – Marianna. I explained to Marianna that I was looking for census records of Trogir. She understood I was looking for relatives but did not understand what a census is. She took me to another office and asked the other women if they knew about a census,
and after much deliberation, they finally understood what I was looking for and looked up the address of where I needed to go. The woman seated at the desk wrote down the address and said I needed to go to the Split archives to find the census. Then another woman came into the office asking about me. Marianna asked me what part of America I was from and translated back to the woman inquiring. They then told me we needed to go back to the first office.
Marianna took me back to the first office and began translating for the other woman a series of questions. Marianna explained that the woman has relatives who are Gruic in Trogir. She then explained that this woman also knows that there are some Gruich relatives in America. They began to ask me questions: Do I know a doctor named Frank? How about a Maria or a Charlie? I said yes to all of these questions, and the woman got up and left the office. Marianna continued to inquire about what I was doing in Croatia, and I explained that I was traveling the country on vacation with my wife, sister, and brother-in-law. When Ashleigh showed up and asked me what was happening, I explained to her that I met someone who thinks she knows about my family in Biloxi. Soon, another man from down the hall appeared to see what was going on, and then the taxi driver showed up and asked what was happening. At this point there were a lot of loud Croatian conversations taking place and questions as to how the taxi driver was involved in all of this with the American tourists looking for family in Trogir. It was quite chaotic!
The woman returned with an armful of photographs, and I immediately recognized my grandparents in several of them. I said their names, which corresponded with the names written in Croatian on the photographs. It was explained to me that the woman I was speaking with, Toncica Emer, has a mother named Dinka Gruich. Dinka is the daughter of Anton Gruich. Anton had a brother named Miho, who immigrated to America and lived in Biloxi. Toncica kept pointing at Miho, her great-uncle, in the photographs. I didn't understand why she kept saying Miho when my great-grandfather's name was Mitchell. After a lot of confusion and translating between Marianna, the taxi driver, and the man from down the hall, we finally understood that Miho and Mitchell were the same person. Mitchell is actually Michael in Croatian – there is a phonetic mistranslation from the pronunciation of Michael in Croatian to the English pronunciation, which sounds like the name Mitchell.
Below are photos that Toncica brought from her mother's house of my grandparents' wedding day, Uncle Frank and Grace getting married, and my great-grandfather's funeral casket.
A photo of my grandparents' wedding day that was sent to Toncica's grandfather, Anton Gruic:
The collection of photos that Toncica brought from her mother's house to show me who Miho was:
This slowly began to make a lot of sense. To clarify, my great-grandfather was born in Trogir with the birth name of Mihovil Ivan Gruich. When he came to America in 1906, he did not speak English very well. When he was asked his name at the port in New Orleans, he was trying to say Michael, which is what Mihovil translates to in English. Because of his accent, Michael sounded like Mitchell. When I was in Toncica's office that day, anytime someone said my name, it sounded like they were saying "Mee Chel." This is how they say Michael in Croatian. My great-grandfather probably didn't care how they wrote his name down at the port or on his registration card. When he signed his name, he signed it as Michel. He probably didn't think twice that they were respelling his first name in English. Coming to America was almost a matter of life and death, and he wasn't going to make too big of a deal of how they spelled his name as long as they were going to let him live and work in America. So in Croatia, his name was Mihovil, or Miho for short, as he was referred to by his family. In America, because of the phonetic mistranslation at the port, his name became Mitchell because that is what it sounded like he was saying. His last name stayed the same as it was easy enough to translate. Other Gruich families who immigrated to the different ports in America were not so lucky and had their last names retranslated to various spellings.
A letter that my Great-Aunt Marie Gruich wrote to Dinka's father Anton in 1966:
Once we established that Miho and Mitchell were the same name and the same person using the photographs, Toncica ran out of the office again. She returned with her daughter, Marina, who could speak and understand English. Toncica introduced me to Marina and explained who I was. Marina asked me what I was doing in Croatia, and I explained we were there on vacation seeing all of Croatia. Marina was in the middle of a catering job and had to return to it, so I only met her for a short minute. After several hours of much translating and finally rejoicing over the long-lost connection, I was finally able to ask Toncica who the parents of Anton (her grandfather) and Miho (my great-grandfather) were.
Toncica called her mom and spoke with her for about five minutes. She wrote the names Augustin Gruic and Maria Stipcic on a piece of paper. Marianna explained that these were the names I was looking for. To make sure I was clear about what I had just learned, I drew a family tree, placing Augustin and Maria at the top and their sons Mihovil and Anton below. I filled out Mihovil's half of the tree, following it down to my own branch. Toncica then filled in Anton's half, completing it to show where she and Marina were located in the tree.
Below are the names of Miho Gruic's parents, which Toncica wrote down while on the phone with her mother:
Below is the tree I drew for Toncica in her office, which helped us to see how our families connected:
It was close to noon by the time all the excitement had passed, and we only had about an hour left before we had to return to Split. I asked Toncica where Augustin and Maria were buried since I hadn't seen their grave in the cemetery. Toncica asked Marianna to explain to me where they lived. Marianna said they lived by the church of Saint Michael. It was getting lost in translation that I was asking about the graves, so the taxi driver tried to explain what I was asking. Toncica made another phone call to her mother, and with the taxi driver translating, I learned that the graves were destroyed during World War II. I asked if we could see where they used to be, and Toncica gave directions to their location on the island. While Toncica had her mom on the phone, they asked if we could return tomorrow to have dinner with them. I explained that we would be in Dubrovnik the next day and then onto Zagreb with our group. I thanked them for all of their patience and explained how grateful I was to have met them. I asked Toncica to tell her mom thank you for the invitation and that I would love to return to see them. Before leaving, I asked Toncica if I could take a picture with her and Marina. She ran downstairs and came back with Marina for one last photo. During this whole craziness, my wife sat quietly in the corner of Toncica's office taking photos and videos of everything as it unfolded. She took some great photos and video of the whole experience as it happened. This was a once-in-a-lifetime kind of experience, and luckily, we got some photos and video of it.
After reluctantly leaving Trogir, I kept in contact with Toncica and Marina for the rest of our trip, fielding a barrage of questions from my father and uncles: Who were the siblings of Nona? What year were they born? Did the siblings have kids? Which siblings were still alive? Who were Nona's grandparents? What did Nona do in Trogir before he came to America? Where were the rest of the Gruich families in the cemetery? The information came in sporadically whenever Marina had a chance to email me back. This was a very slow process since none of us in America could speak Hrvatski, we couldn't just call Dinka and ask her about her father's family history. During the following several months, we were able to get many questions answered.
Once I had the names of Nona's parents, I was able to return to the states and have a starting point that put us one more generation back in the tree. From the little information that was uncovered in just the few hours I spent in Toncica's office, combined with the fragments of information I received in emails from Marina after leaving Trogir, we
were able to put together a small skeleton of the family tree that extended to Nona's brothers and sisters. After conveying everything I learned to my father and uncles, we began discussing making a pilgrimage to Trogir for the following spring to meet with Dinka and spend time in Trogir. The idea of formally meeting Croatian cousins who descended from the same family that we had was something of a dream come true.
My wife and I on the northern bridge into Trogir.
When I was in Toncica's office that day, we had luckily brought along our camera. My wife took a short video of when we were in the middle of trying to figure out the top of our family tree connecting us. If you are interested in watching it you can click on the photo below to see what it was like to be in the Croatian City Hall with three different people translating for me and Toncica to communicate.
This is part 1 of the reconnection story for my family going back to where they came from. I will be following it with a part 2 that describes what the second visit was like when me and my father and two uncles visited Croatia and formally met our Croatian cousins.
If you are researching Gruich genealogy and your family goes back to Croatia please get in touch with me at my email address: Mitchell.gruich at gmail.
REFERENCES:
The Daily Herald, "Dr. Frank Gruich, September 3, 1945, p. 5.
The Daily Herald, "Mitchell V. Gruich, February 24, 1958, p. 2.
The Sun Herald, "Tony 'Captain Breezy' Gruich, May 18, 1996, p. C-2.
The Sun Herald, "Mitchell J. Gruich Sr., August 31, 1998.
The Sun Herald, "Marie Sophie Gruich, December 27, 1998, p. A-17.
The Sun Herald, "Ms. Leoneade M. Gruich", March 10, 2005, p. A-6.
The Sun Herald, "Dr. Frank G. Gruich; Dr. G just loved being a doctor", September 2, 2007, p. A-12.
The Sun Herald, "Dr. Frank G. Gruich Sr., September 3, 2007.