Primary tabs
Catholic Churches
TIMELINE
1837
The Diocese of Natchez was established by the Roman Catholic Church on July 28, 1837.(The Mississippi Register, August 3, 1962)
1840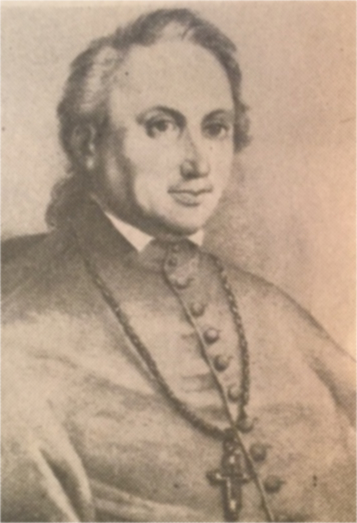 Bishop John Mary Joseph Chanche (1795-1852)
1843
On August 15, 1843, Manette Fayard Leader (1791-1853), widow of Thomas Leader, for $200 sold Bishop of Natchez John Joseph Chanche a lot of 1/2 acre on Pass Christian Road [Howard Avenue]. The tract was 150 feet deep with Louis A. Caillavet to the west and Augustine Fayard to the east.[Harrison Co., Mississippi Chancery Court Land Deed Bk. 1, p. 355]
1853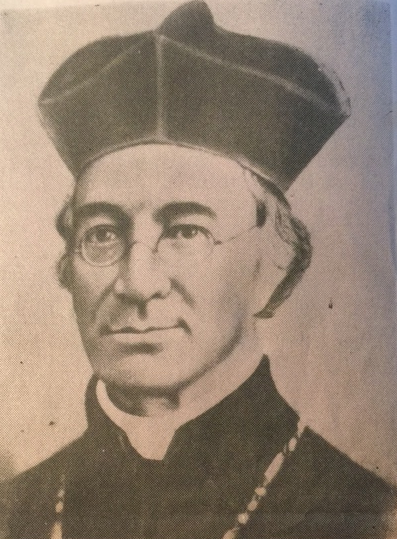 Bishop James Oliver Van deVelde (1795-1855)
1857
Bishop William Henry Elder
1881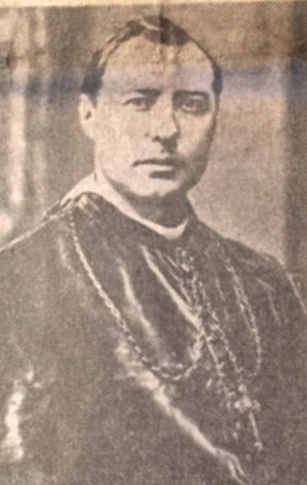 Monsignor Francis August Anthony Joseph Janssens (1843-1897) was a Dutch-born Prelate who served as Bishop of Natchez (1881 – 1888), and Archbishop of New Orleans (1888 – 1897).
Francis Janssens was born October 17, 1843 in Tilburg, North Brabant, to Cornelius John Janssens and Josephine Anne Dams. He studied at the Seminary of 's-Hertogenbosch from 1856 until 1866, when he entered the American College at Louvain, Belgium, with the view of dedicating himself to the American Missions. Janssens was ordained to the Priesthood on December 21, 1867. Arriving at Richmond, Virginia, in September 1868, he became Rector of the Cathedral in 1870, and served as Vicar General under Bishops James Gibbons and John Joseph Keane.
On April 7, 1881, Janssens was appointed the Fourth Bishop of the Diocese of Natchez, Mississippi, by Pope Leo XIII, receiving his Episcopal Consecration on the following May 1, from Archbishop James Gibbons, assisted by Bishops Thomas Becker and John Keane. During his tenure he completed construction on the Cathedral of St. Peter the Apostle, which had commenced forty years earlier.
Janssens was promoted to the Archbishopric of New Orleans, Louisiana, on August 7, 1888, succeeding Msgr. Francis Xavier Leray, and was installed on the following September 16. During his tenure he convened the fifth Archdiocesan Synod in May 1889, founded more than twenty-five new parochial schools, dedicated a new Preparatory Seminary at Gessen in September 1891, and established the Catholic Institute for Deaf and Dumb at Chinchuba in 1890.
Janssens significantly reduced the immense debt incurred by Archbishop Napoléon-Joseph Perché. Continuing the work of his immediate Predecessor, Francis Xavier Leray, he reduced it from $324,759 to about $130,000.
His tenure also spanned the period of hardening racial divisions between whites and blacks. He once said, "There is nothing in my administration of the Diocese that worries me more than our colored people; to see what is done by the Protestants to capture them and how often they succeed." Believing that a separate Parish would keep blacks within the Catholic Church and facilitate black leadership just as it had for Irish and German immigrants, Janssens established St. Katharine's Church in 1895, as the first Parish designated for black Catholics. Attendance, however, was optional. It was, however, his expressed hope "that anyone might occupy any pew or any seat anywhere in the church."
Bishop Janssens died on June 9, 1897 aboard the steamer Creole, bound for New York City, aged 53. He is buried at St. Louis Cathedral in New Orleans.(The Mississippi Register, August 3, 1962)
1889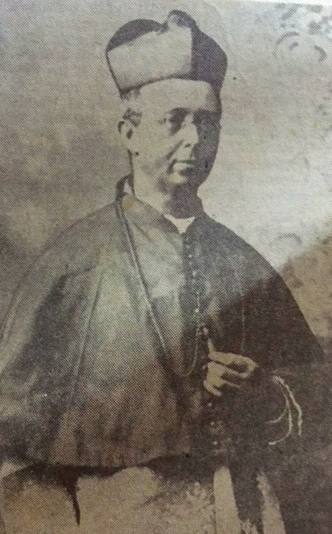 Thomas Heslin (1847-1911), native of Dernacross, County Longford, Ireland, was appointed the 5th Bishop of the See of Natchez on March 29, 1889. He expired at Natchez on February 18, 1911.(The Mississippi Register, August 3, 1962)
1900
1902
Contract for the NBVM Catholic Church was let to J.F. Barnes & Co. of Greenville and Biloxi for $15,558. Brick structure 132 feet by 55 feet, 60 feet tall, and bell tower 140 feet tall. Architect Theo Brune (1854-1932) of NOLA. Bid did not include: overhead ceiling, plastering, and wainscoting.(The Biloxi Daily Herald, February 7, 1902, p. 1)
In mid-September, Bishop Heslin blessed and christened the new church bell at the Church of the Nativity BVM donated by Lazaro Lopez. Father Blanc of Bay St. Louis, Father Aloysius of Pass Christian, and Reverend Alphonse Kettels of Biloxi assited Bishop Heslin with the blessing. The bell was given in the name of Clara Josephine Lopez and sponsored by her siblings, Master Julius Lopez and Miss Rowena Lopez.(The Biloxi Daily Herald, September 16, 1902)
1903
1904
1905
1906
In early January 1906, seven, large, stain glass windows arrived at Biloxi from Germany to tbe placed in the sanctuary of the Nativity B.V.M. Catholic Church. Julia Dulion Lopez (1857-1918) had donated these windows described as 'equal to anything in the South' in memory of Lazaro Lopez, (1850-1903), her late husband. Frederick Thornley of New York was employed to install the windows designed and built by Reis and Reis of Munich, Germany.(The Biloxi Daily Herald, January 6, 1906, p. 4 and January 9, 1906, p. 1)
1908
Our Lady of Good Counsel on Cedar Street at Point Cadet in East Biloxi was dedicated in late January with Father Alphonse Ketels in charge. Frederick Henry McCaleb (1846-1909) donated the land for the small church to the Diocese of Natchez in February 1908. The deed from Mr. McCaleb stated that "graves on said lot is not to be molested and reserve the right to have any of my family buried on said lot at all times."(The Biloxi Daily Herald, January 30, 1908 and Harrison Co., Mississippi Chancery Court Land Deed Bk. 102, p. 121)
1910
Michael F. Murphy and spouse donated a large, stained-glass, window [18 feet tall and about 8 feet wide] to Nativity B.V.M Catholic Church. The window was the work of Herr Reiss, the son of the acclaimed Reiss of Munich, Germany. Edward F. Brennan representing the Mayer Company of New York-London-Munich installed the large light on the west sdie fo the church near the sanctuary.(The daily Herald, January 4, 1910, p. 1)
1911
1912
On September 18th, Sister Mary Aloysius Cook, president of the Sisters of Mercy St. Alphonsus Council of NOLA conveyed for $2500 two lots, one north and one south of their Convent, and situated on the west side of Reynoir Street and south of West Howard Avenue to the Catholic Diocese of Natchez.(The Daily Herald, September 27, 1912, p. 1 and Harrison Co., Mississippi Land Deed Bk. 102, p. 123)
1920
Peter Pitalo (1866-1947) donated a statue representing Our Lady of the Assumption to St. Michael's Church as a memorial to John Joseph Pitalo (1893-1918), his deceased son.(The Daily Herald, June 25, 1920)
1921
The Reverend Alphonse Kettels (1855-1921), native of St. Nicholas, Belgium and pastor of N.B.V.M. since 1897, expired at Biloxi, Mississippi on July 11th. Father Ketels came to the Diocese of Natchez in 1886 to minister to the people of DeLisle. In the fall of 1920, he visited his four sisters in Belgium. In December 1921, Bishop Gunn appointed Father Peter Keenan (1873-1937) to replace Reverend Ketels at N.B.V.M.(The Daily Herald, August 27, 1909, p. 1, July 12, 1921, p. 1 and July 13, 1921, p. 1)
St. John's Catholic Church, Biloxi's 4th Catholic Parish was dedicated on December 18, 1921 by Bishop John E. Gunn. The sanctuary was located on the corner of Main Street and Bayview Avenue. Father P.J. Carey of St. Theresa's Catholic Church in North Biloxi was appointed to minister to the Catholics of Back Bay. He had come to Biloxi from Bay St. Louis about two years prior.(The Daily Herald, December 16, 1921, p. 1.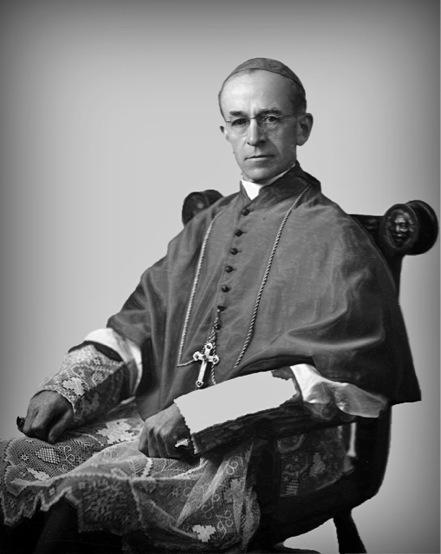 Richard Oliver Gerow (1885-1976) was born at Mobile, Alabama. He was appointed Bishop of the See of Natchez on June 25, 1924 and consencrated Bishop on October 15, 1924. Bishop Gerow expired at Jackson, Mississippi on December 20. 1976.
(The Mississippi Register, August 3, 1962)
1931
Father P.J. McGlade (1893-1980) was appointed the pastor of the newly formed St. John's Parish on Biloxi's Back Bay.(The Daily Herald, September 4, 1931, p. 5)
1937
On March 19, 1937, Eurilda Glavan (1915-2002) became a novice in the Sisters of St. Joseph Convent at St. Joseph Academy in NOLA.[The Daily Herlad, March 24, 1937, p. 2]
The Reverend J.W. Mulroney was retained as pastor of Our Mother of Sorrows Catholic Church. Father Mulroney was to have been transferred. Father John J. Albert of Brooklyn, New York was in charge of the parish while Father Mulroney was in Rome City, Indiana visiting his ill sister. He planned to return to Biloix in August .(The Daily Herald, July 20 1937, p. 6)
1940
Kenneth Lewis Harris (1912-1964), native of Biloxi, was ordained a Roman Catholic priest on May 18th at St. John's Catholic Church in Biloxi. He died at New Orleans on June 22, 1964.(The Daily Herald, May 16, 1940, p. 6, May 17, 1940, p. 1, and May 18, 1940, p. 1, and June 22, 1964, p. 1)
1947
Sister Mary Clarissa, RSM, daughter of Mr. and Mrs. Chester Rose, West 1st Street and Sister Mary Grace, RSM, daughter of Earl Pickard, Reynoir Street, arrived yesterday. Sister Clarissa will be at the Convent of Mercy on Renoir Street and Sister Mary will be at the Holy Angels Nursery on East Beach.(The Daily Herald, August 9, 1947, p. 2)
1948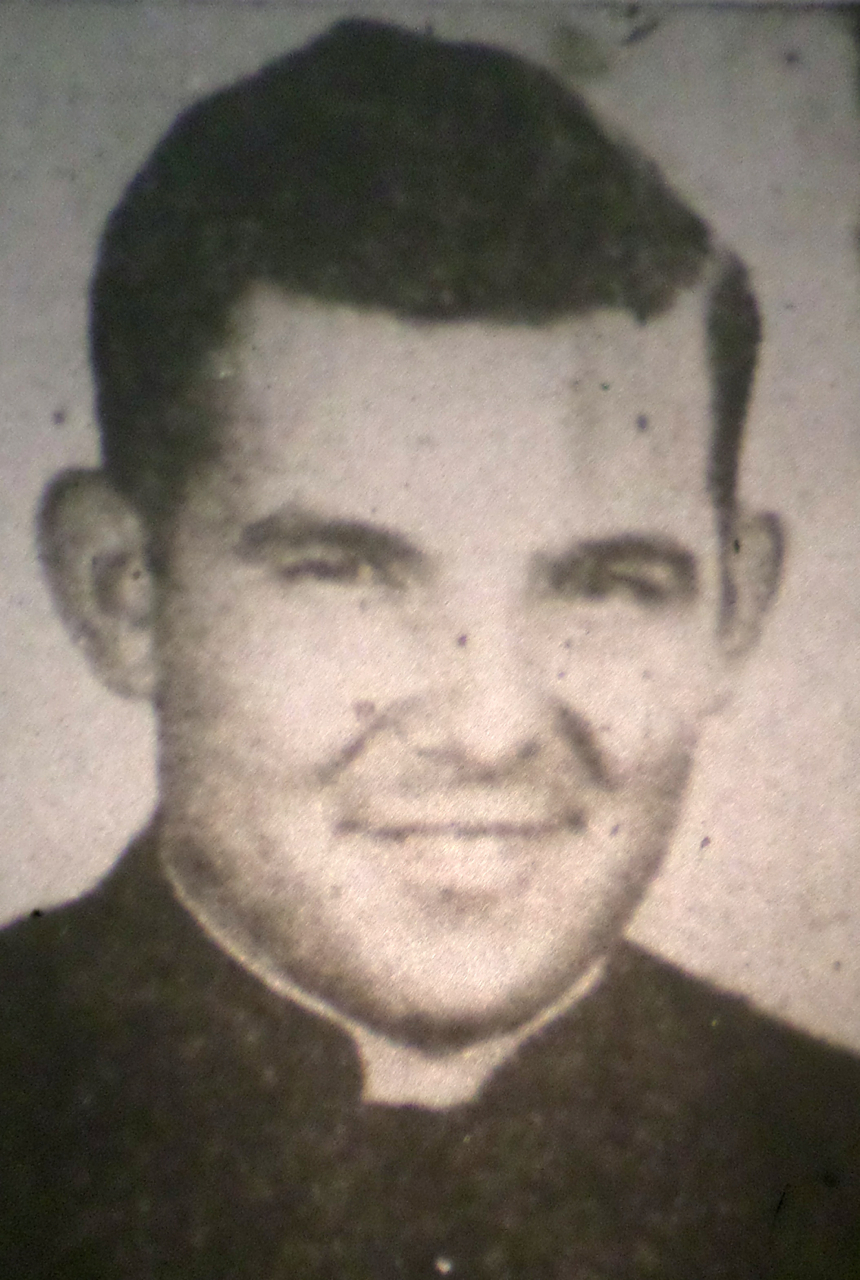 Father Harry J. Pelous (1921-1994)
Harry J. Pelous (1921-1994), native of Garden City, Louisiana and son of Mr. and Mrs. Henry J. Pelous of Biloxi, was ordained a Catholic priest at St. John the Evangelist Cathedral at Lafayette, Louisiana on May 22, 1948. He said his first solemn High Mass at Nativity BVM in Biloxi on May 1948. Father Pelous died at Lafayette, Loiusiana on February 18, 1994.(The Daily Herald, May 22, 1948, p. 10)
1950
Father Patrick Scully (b. 1926), a native of Kilbeggan, County Westmeath, Eire, and a graduate of St. Patrick's College, Carlow, Ireland, assumed his duties as third assistant pastor at N.B.V.M. Catholic Cghurch at Biloxi. Kilbeggan was known for its Irish whiskey distillery.(The Daily Herald, October 11, 1950, p. 7-[photo])
The See of Natchez became the Diocese of Natchez-Jackson on December 18, 1956. Bishop R.O. Gerow (1885-1976) was in office at the time.
1959
Ground was broken on January 12th for the new St. John's Church on Lameuse Street. The Reverend Michael Fox (1918-1969), pastor, Henry F. Fountain Jr. (1924-2011), architect, Ralph Marion, contractor, and Ernest Boney, building committee.(The Daily Herald, January 13, 1959, p. 2)
1960
Brother Joseph Otto CSC (1931-1960) died September 20, 1960 at Indianapolis, Indiana where he had been teaching at Cathedral High School sine 1957. Brother Joseph was a Biloxi native, the son of George Otto (1879-1959) and Mrs. Otto. He graduated from Notre Dame High School in 1949 and entered the novitiate of the Brothers of the Holy Cross. Brother Joseph Otto's corporal remians were interred at the University of Notre Dame, South Bend, Indiana.(The Daily Herald, September 21, 1960, p. 2)
1962
In late May, Our Lady of Fatima contracted with the William Craig Company of Gulfport, Mississippi to erect a $102, 811, two-story, masonry convent school building to be situated south of the elementary class room buildng. Slaughter & Smith, Pascagoula, Mississippi architects, designed the eight-bedroom facility for the Catholic teaching nuns.(The Daily Herald, June 1, 1962, p. 1)
Father Paul Hession (ca 1920-1993) of Our Lady of Fatima Parish celebrated his 20th anniversary as a Roman Catholic priest in mid-June with a tea service. Assistant Pastor, Lorenzo Diamond, and Monsignor Geoffrey T. O'Connell of N.B.V.M. were in attendance.(The Daily Herald, June 14, 1962, p. 7)
1964
The new St. Michael's Catholic Church was dedicated by Bishop R.O. Gerow of the Natchez-Jackson Diocese on August 25th. The $500,000, 10,300 square-ft. structure was designed by James T. Canizaro, architect, and erected by McClendon Building Services of Gulfport. Construction commenced in October 1962. Father Herbert Mullin was the pastor.(The Daily Herald, August 24, 1964, p. 16 and August 26, 1964, p. 1)
In September, Reverend Morgan Kavangh, Diocesan Director announced that five newly ordained Irish Catholic priests had arrived on the Mississippi Gulf Coast: Father Patrick McDermott, asst. at NBVM; Thomas White, asst. OLG-Bay St. Louis; John Kelly, asst. BVM; Eugene Clarke, St. John's-Gpt.; and James O'Riordan, asst. OLG-Bay St. Louis. (The Daily Herald, September 17, 1964, p. 23)
1969
Reverend Monsignor Michael J. Fox (1918-1969) died on March 22, 1969 at his home at Cashel, Omagh, County Tyrone, Ireland. A Requiem Mass was offered by Bishop Brunini for the repose of his soul at St. Joseph Church at Greenville, Mississippi where he was parish priest. Father Fox had served as assistant pastor at St. Paul Church in Vicksburg and Our Lady of the Gulf in Bay St. Louis. He was appointed pastor of St. John's Church at Biloxi in 1956 and was later named pastor of St. Joseph Church in Greenville.(The Daily Herald, June 21, 1969, p. 2)
1973
In February, the Reverend John Robinson became pastor of St. Michael's Catholic Church. Father Robinson came to Biloxi from Laurel, Mississippi where he was pastor of the Immaculate Conception Church for 6 and 1/2 years. He was assistant at St. Michael's under Father Mullin from 1950-1952. Father Robinson was ordained in 1949 at St. Patrick's College, Carlow, ireland. He was born at Killesshandra, County Cavan, Ireland.(The Daily Herald, February 7, 1973, p. 8)
1976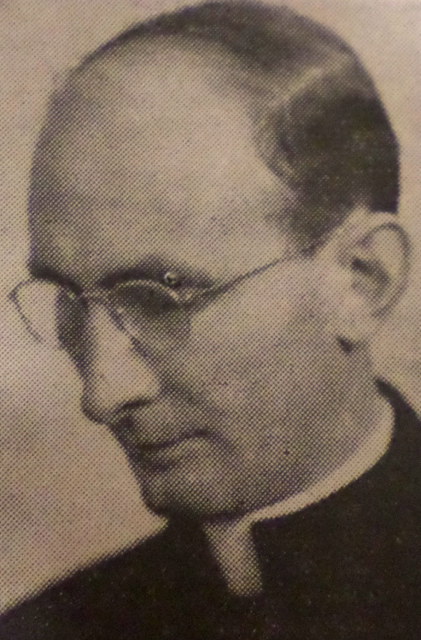 Reverend Monsignor Geoffrey T. O'Connell died on May 9, 1976.
1977

The Roman Catholic Diocese of Biloxi was established on March 1, 1977, when it was split from the Roman Catholic Diocese of Jackson.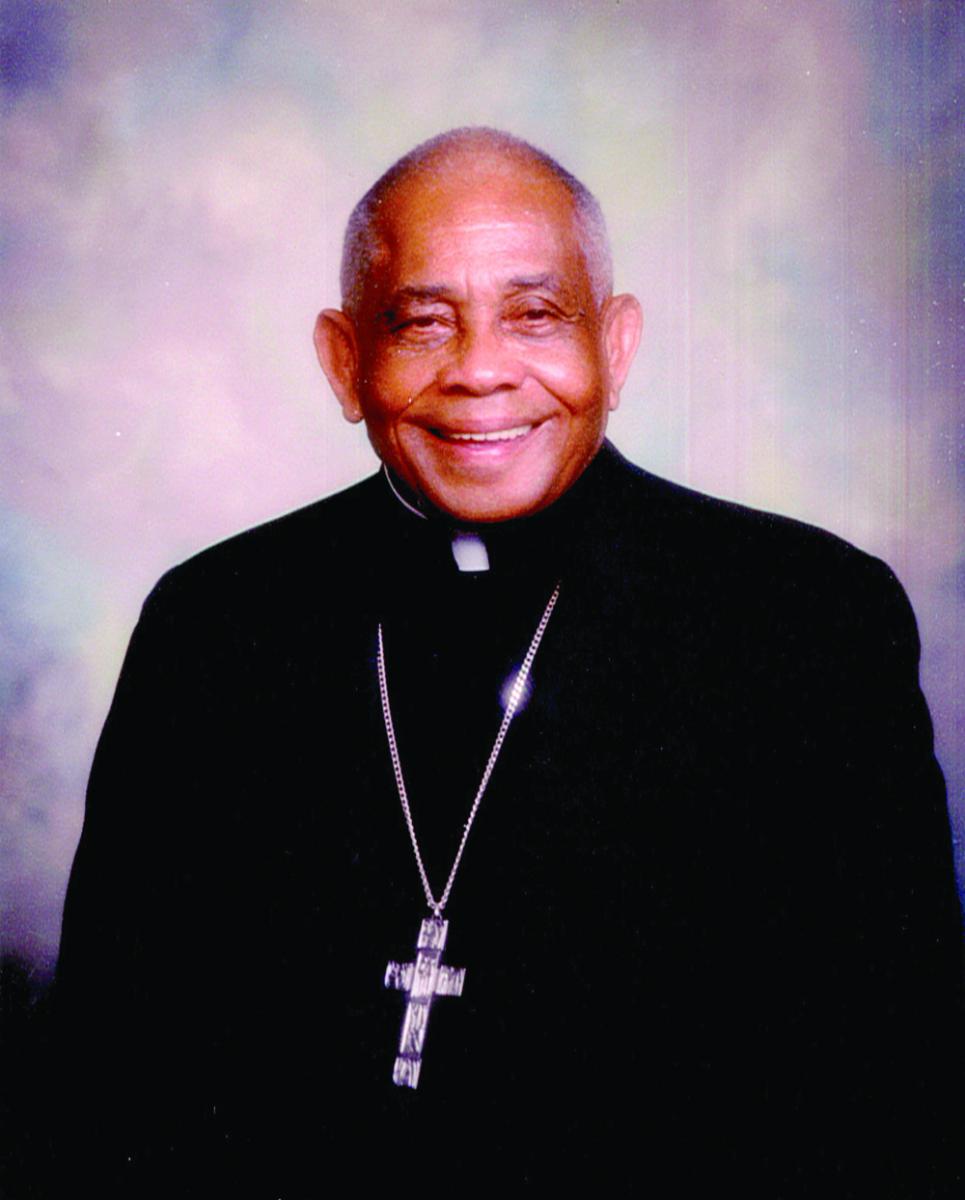 Bishop Joseph Lawson Howze, D.D. was born August 30, 1923, in Daphne, Alabama, was the first bishop of the Catholic Diocese of Biloxi. He was born Lawson Howze and took the name Joseph when he converted to Catholicism in 1948.
He received his B.A. degree from Alabama State University, in 1948. After religious training at Christ the King Seminary at St. Bonaventure University, in New York, Howze was ordained a priest for the Roman Catholic Diocese of Raleigh, North Carolina, in 1959.
He was named an auxiliary bishop of the Roman Catholic Diocese of Natchez-Jackson, Mississippi, on November 14, 1972, and was installed on January 28, 1973. When the Diocese of Biloxi was created in 1977, Howze was appointed as its first bishop. He was the first African American bishop in the 20th century to head a diocese in the United States. Bishop Howze retired June 6, 2001.
1981
Brother Placidus Carroll CSC (1902-1981) native of Baltimore, Maryland died at Biloxi, Mississippi on January 25, 1981. He came to Notre Dame High School in 1947 and retired in 1976. His corporal remains were sent to Notre Dame at South Bend, Indiana for internment.(The Daily herald, January 26, 1981, p. A2)
1993
Reverend Monsignor Paul Hession died on September 15, 1993.
1995
The Reverend Paul Alphonse Gillis [nee Gaulis] (1918-1995), a native of Raseniniai, Lithania died at Ocean Springs, Mississippi on August 14, 1995. He was ordained on June 6, 1946 in Washington D.C. and his first assignment in Mississippi commenced in September 1953 at St. Paul's at Vicksburg. Father Gillis retired in July 1988 while at the Church of the Holy Spirit in Vancleave, Jackson County, Mississippi. The corporal remains of Father Gillis were interred at Bassfield, Mississippi in the St. Peter Catholic Cemetery.(The Sun Herald, August 18, 1995, p. B2)
1996
Bishop Joseph B. Brunini (1909-1996) expired on January 7, 1996.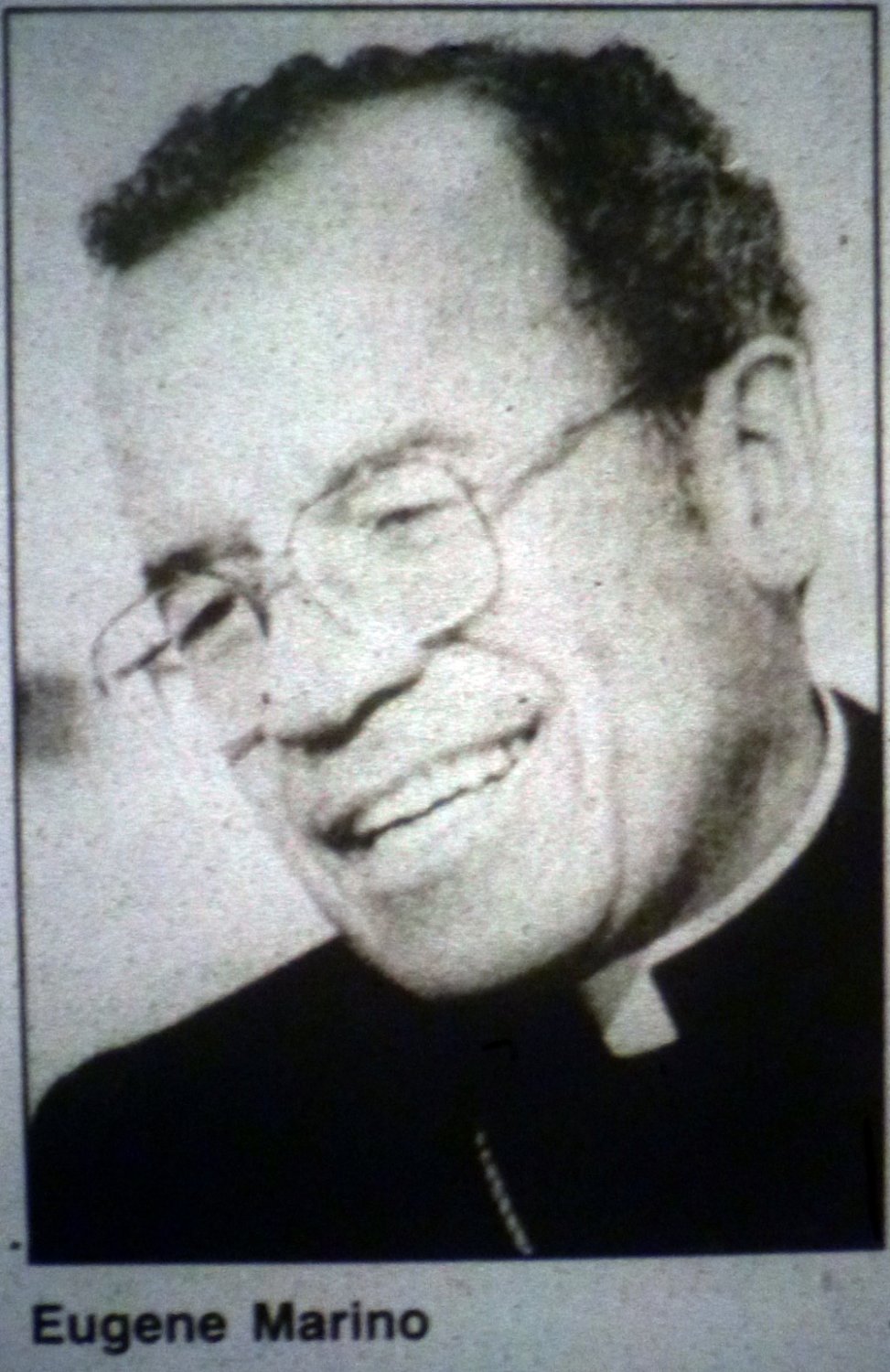 Archbishop Eugene A. Marino (1934-2000), a Biloxi native and America's first Roman Catholic Black Archbishop, expired at New Rochelle, New York on 11 November 2000. He was selected by Pope John Paul II on March 15, 1988 for this position and installed at Atlanta, Georgia on 5 May 1988.(The Sun Herald, April 30, 1988, p. A7 and November 14, 2000, p. A1 and p. A5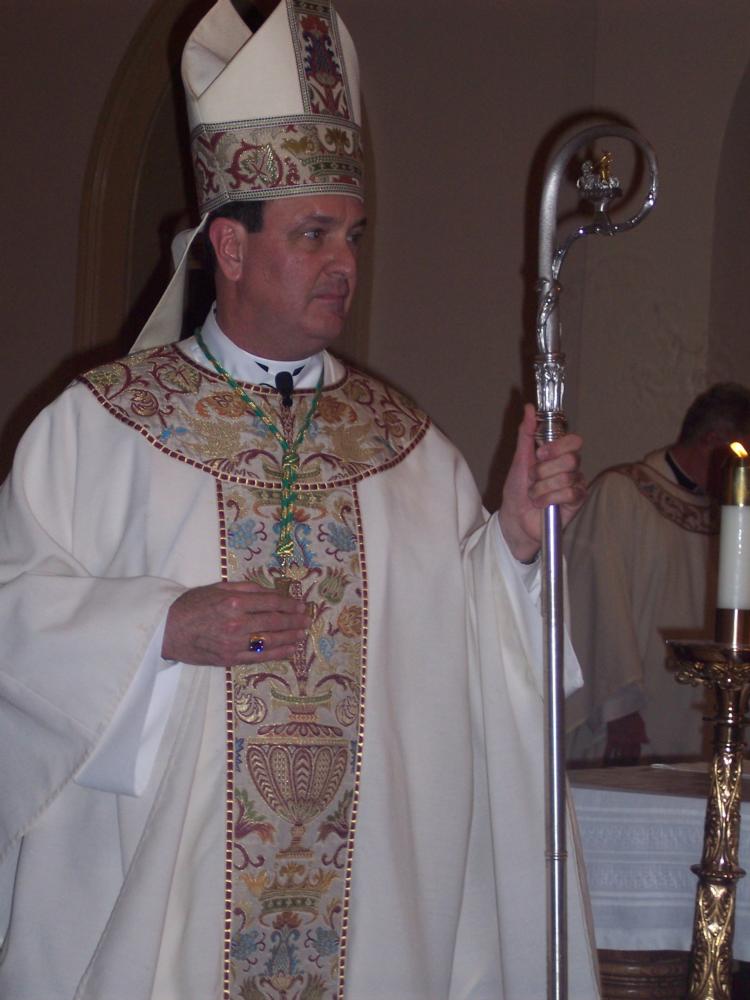 Bishop Thomas J. Rodi, a native of New Orleans, graduated from De La Salle High School in 1967 and earned a Bachelor of Arts degree from Georgetown University in 1971. He returned to New Orleans where he earned a law degree from the Tulane University Law School in 1974, and then entered Notre Dame Seminary, where he received a master of divinity degree in 1978.
Bishop Rodi was ordained to the priesthood on May 20, 1978, and served as associate pastor at St. Ann and St. Christopher the Martyr parishes, in Metairie, and at St. Agnes in Jefferson.
In 1983 he was appointed judge for the Metropolitan Tribunal, which handles marriage cases. He earned a licentiate in canon law from The Catholic University of America in Washington, D.C., in 1986, and served as professor of canon law at Notre Dame Seminary from 1986 to 1995.
Bishop Rodi served as director of the Office of Religious Education from 1988 to 1989, and as executive director of the Department of Pastoral Services from 1989 to 1996.
In addition to his other duties, Bishop Rodi was named Archdiocesan Chancellor in 1992, and in 1996, he was named Vicar General and Moderator of the Curia.
In 1992, he was named a prelate of honor (a monsignor) by Pope John Paul II.
Bishop Rodi also served as administrator of St. Matthew the Apostle Parish in River Ridge, ministered in Our Lady of the Rosary and St. Pius X parishes in New Orleans, and was pastor of St. Rita Church, in New Orleans.
He was ordained a bishop and installed as Bishop of Biloxi on July 2, 2001. Bishop Rodi was appointed Archbishop of Mobile by Pope Benedict XVI on April 2, 2008, and was installed on June 6, 2008.
2004
Reverend Charles R. Loyacono (1923-2004) died on May 2, 2004 at Baton Rouge, Louisiana.
2008
Reverend Monsignor James Hannon (1920-2008), native of County Galway, Ireland and ordained in June 1945 at St. Patrick's College, Carlow, Ireland, expired on March 16, 2008 at , Mississippi. One of the founders of the St. Vincent De Paul Free Pharmacy in Biloxi Buried Evergreen Cemetery at Ocean Springs, Mississippi.(The Mississippi Press, March 19, 2008, p. A4 and The Sun Herald, March 18, 2008, p. A2)
2009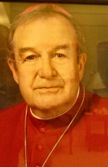 Bishop Roger P. Morin was named vicar general and moderator of the curia in the New Orleans Archdiocese June 15, 2001. His episcopal ordination was April 22, 2003 at St. Louis Cathedral in New Orleans.
A native of Dracut, Mass., he was born on March 7, 1941, the son of Germain J. and Lillian E. Morin. After high school and college studies, he earned a bachelor's in philosophy in 1966 from St. John's Seminary in Brighton, Mass., and continued theology studies at St. John's for two years of graduate school.
He went to New Orleans in 1967 to work in its new summer Witness program, conducted by the archdiocesan Social Apostolate. When he returned to New Orleans in 1968, he became director of The Center, a neighborhood social service organization run by the Social Apostolate. He enrolled at Notre Dame Seminary, studying in the evenings and on Saturdays in addition to his full-time position at The Center. He was ordained to the priesthood by Archbishop Hannan on April 15, 1971, in his home parish of St. Therese in Dracut, Mass. His first parish assignment was at St. Henry Parish in New Orleans.
In 1973, he was appointed associate director of the Social Apostolate and in 1975 became the director, responsible for the operation of nine year-round social service centers sponsored by the archdiocese.
Bishop Morin holds a master of science degree in urban studies from Tulane University and completed a program in 1974 as a community economic developer. He was in residence at Incarnate Word Parish beginning in 1981 and served as pastor there from 1988 through April 2002.
In 1978, he was a volunteer member of Mayor Ernest "Dutch" Morial's transition team dealing with federal programs and then accepted a $1 a year position as deputy special assistant to the mayor for federal programs and projects. He served the city of New Orleans until 1981, when he was appointed archdiocesan vicar for community affairs.
In 1981, he assumed the full-time position of vicar for community affairs, with responsibility over nine agencies: Catholic Charities, Social Apostolate, human relations, alcoholics' ministry, Apostleship of the Sea, cemeteries, disaster relief, hospitals and prisons. He was named a monsignor by Pope John Paul II in 1985. One of the highlights of his priesthood came in 1987 when he directed the archdiocese's preparations for Pope John Paul's historic visit to New Orleans. The visit involved thousands of community volunteers and coordination among national, state and local religious and political leaders. He also coordinated the events of the bicentennial of the archdiocese in 1993.
In 1995, Bishop Morin received the Weiss Brotherhood Award presented by the National Conference of Christians and Jews for his service in the field of human relations. Bishop Morin is a member of the USCCB's Committee on Domestic Justice and Human Development. Bishop Morin's episcopal motto is "Walk Humbly and Act Justly."
He has one brother: Paul; and three sisters: Lillian (Pat) Johnson, Elaine Joncas and Susan Spellissy. His parents and his brother James are deceased.
He was installed as Bishop of Biloxi on Monday, April 27, 2009 at Nativity of the Blessed Virgin Mary Cathedral in Biloxi. The Most Reverend Archbishop Pietro Sambi, Apostolic Nuncio to the U.S.A., and the Metropolitan Archbishop of Mobile, the Most Reverend Thomas J. Rodi, presided at the ceremony.(The Sun Herald, April 26, 2009, p. A13, and April 28, 2009, p. A1)
2014
Father Peter F. Mockler (1948-2014), native of Woodbrook, Newbridge, Ballinasloe, County. Galway, Ireland died on January 30, 2014 at Lizana, Harrison County, Mississippi. He studied at St. Patrick College, Carlow, Ireland and was ordained a priest for the Diocese of Natchez-Jackson on June 10, 1973. He arrived in Mississippi on Aug. 26, 1973.(The Sun Herald, February 1, 2014, p. A-4)
_____________________________________________________
Priest and Nuns
Reverend Kenneth L. Harris (1912-1964) was born at Biloxi, Mississippi on February 16, 1912 to Mr. and Mrs. Fred harris. He was educated at Gorenflo public school, Sacred Heart Academy and graduated from Biloxi High School in 1929. Kenneth entered the St. Bernard Seminary at Cullman, Alabama in September 1931 and remained there for two years. .
REFERENCES:
The Daily Herald, 'New Priest is native of Biloxi', May 16, 1940, p. 6.
Peter Francis Mockler

Father Peter Francis "Father Pete" Mockler, (1948-2014), age 65 years, passed away on January 30, 2014, at St. Ann's Catholic Church in Lizana. Father Pete was born on Nov. 4, 1948 in Woodbrook, Newbridge, Ballinasloe, Co. Galway, Ireland and he studied at St. Patrick College, Carlow, Ireland and was ordained a priest for the Diocese of Natchez-Jackson on June 10, 1973. He arrived in Mississippi on Aug. 26, 1973. Father Pete's first assignment was as associate pastor of St. John the Evangelist in Gulfport, where he served from Sept. 1, 1973 until Sept. 3, 1978. He served at Sacred Heart -- Pascagoula from 1978-1980 and on September 11, 1980, he was named pastor of St. Ann Parish, Lizana. On Jan. 14, 1988, he was appointed pastor of Our Lady of the Gulf Parish, Bay St. Louis. In 2001, he was appointed pastor of St. Ann Parish, Lizana for a second time and served there until his death. Father Pete served on numerous diocesan boards and committees. On Dec. 23, 1977, he was named the first director of the Diocese of Biloxi's permanent diaconate program. At the time of his death, he was a member of the College of Consultors, the Presbyteral Board and the Diocesan Finance Committee.

He was preceded in death by his father, James Mockler. Survivors include his mother, Mary Mockler, 11 siblings, Mary (Sonny) Ryan, Kathleen (Kevin) Mullins, Margaret (Johnny) Mullins, Bridie (Tony) Haverin, Fr. Paddy Mockler, Eileen (John) O'Loughlin, Nora (Tommy) Bane, Ann (John Francis) Walsh, Michael Mockler, Bernadette (Sophinne) Mocker, and Teresa (Martin) Mockler, his aunt, Margaret Quinn, his cousin, Fr. Tommy Conway, and numerous nieces, nephews, grand-nieces and nephews, and other relatives.

There will be 2 services. First, A Mass of Christian Burial will be celebrated at 3 pm Sunday, February 2, 2014 at St. Ann's Catholic Church, Lizana, where visitation will be from 1 -- 3 pm. A rosary will be recited at 2:30 pm. Second, A Mass of Christian Burial will be celebrated at 5 pm on Tuesday, February 4, 2014 where visitation will be from 3 -- 5 pm. Burial will take place on the grounds of St. Patrick's Church in Newbridge, County Galway, Ireland. The Riemann Family Funeral Home, Gulfport, is in charge of arrangements, and an online guestbook may be viewed and signed at www.riemannfamily.com(The Sun Herald, February 1, 2014, p. A-4)