PEOPLE
19th Century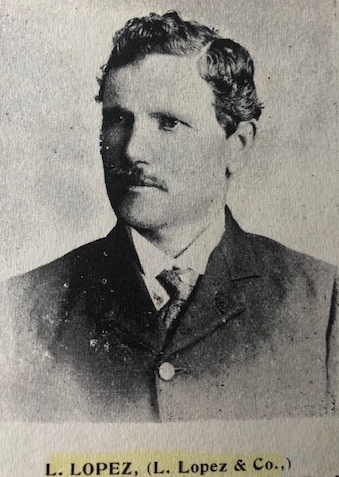 SCENERY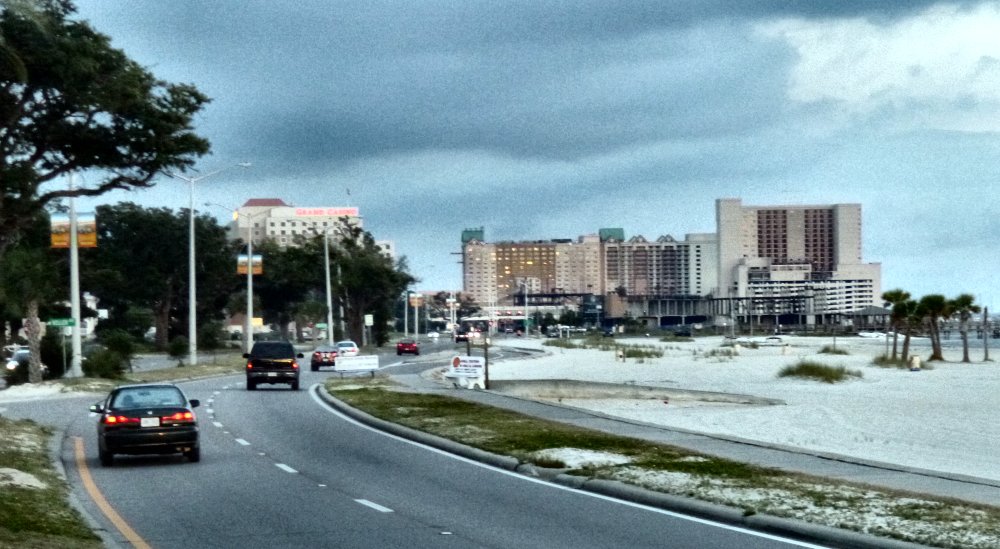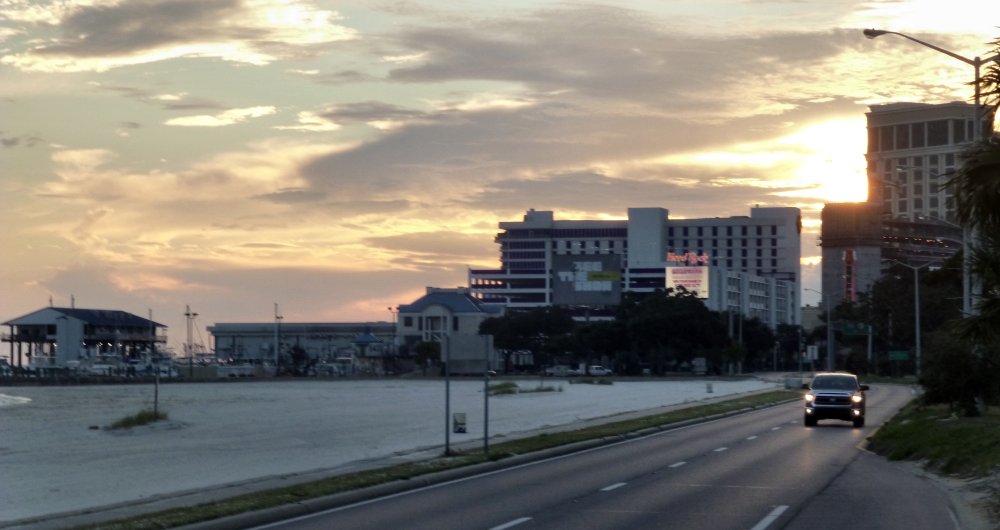 Casino Row-Point Cadet Casino Row-Central Beach
[from Lee Street-October 2013] [from Lee Street-October 2013]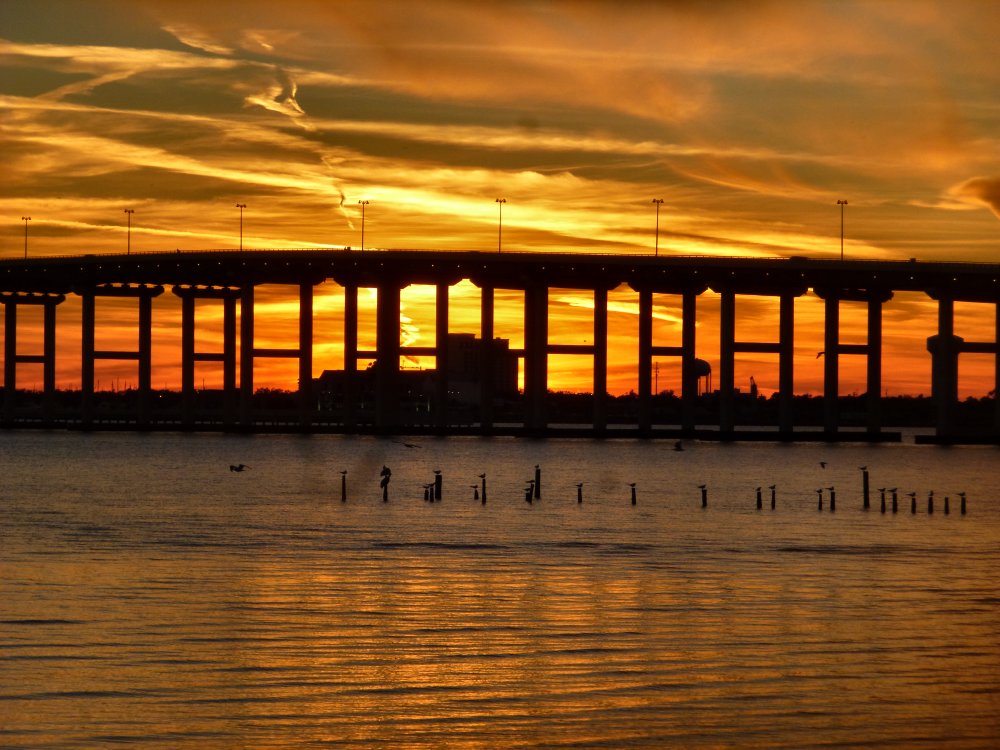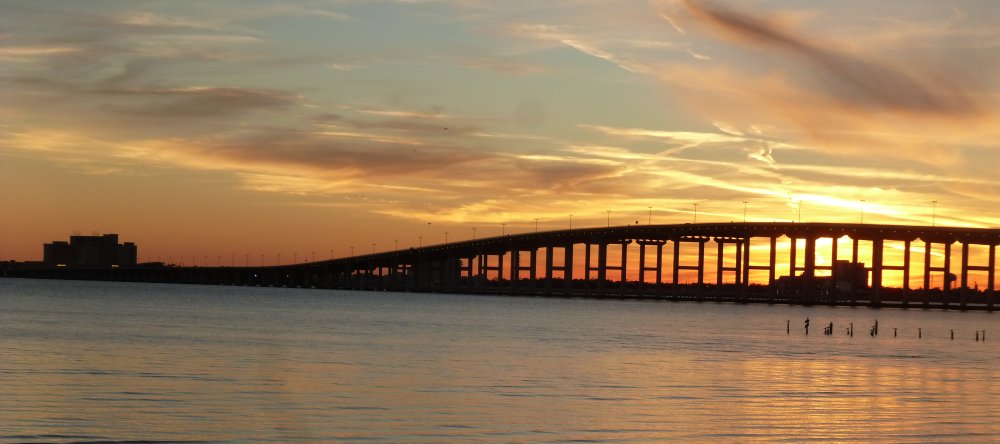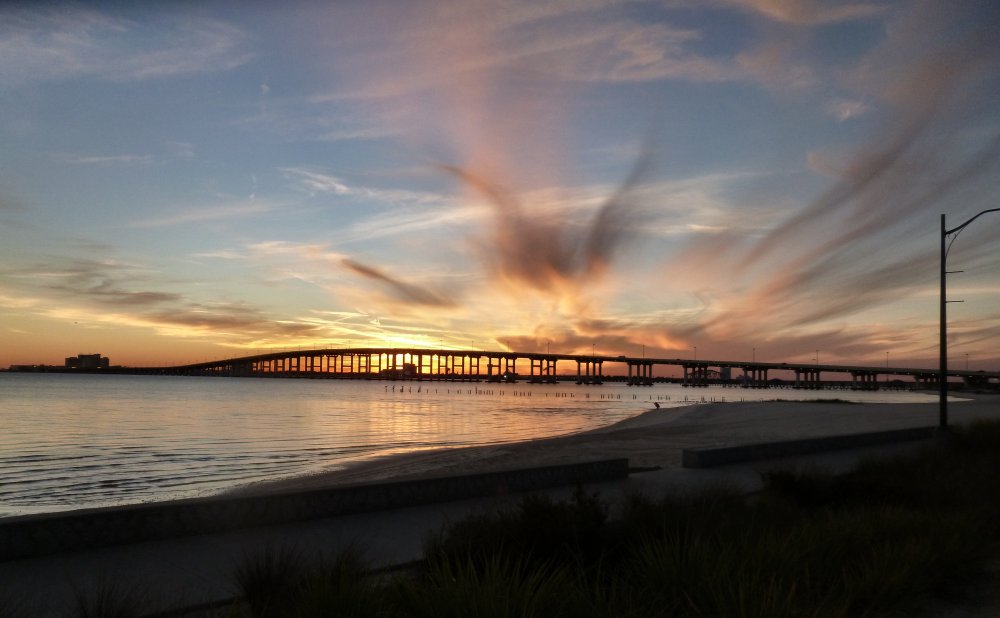 Biloxi Bay Bridge-November 2013
SEAFOOD INDUSTRY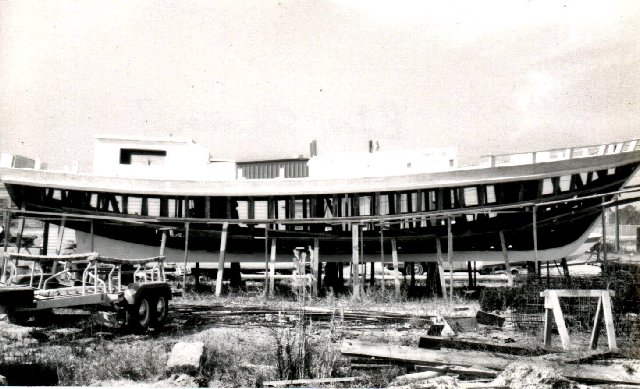 Mike Sekul, Biloxi schooner, built 1992 for the City of Biloxi on Clay Point
by Nelious 'Neil' C. Covacevich (1920-2011) [image February 1992 by Ray L. Bellande]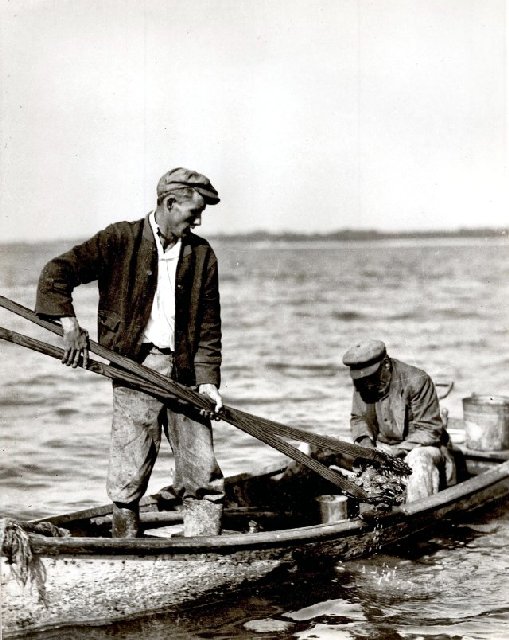 BILOXI OYSTER TONGERS off DEER ISLAND
[image by Anthony V. Ragusin (1902-1997) made November 24, 1935. courtesy of the CC Tex Hamill Collection-MGCCC-Perkinston, Ms. Archives and Charles L. Sullivan, Professor Emeritus and MGCCC Archivist]
This image was made in November 1935 by A.V. 'Tony' Ragusin, 'Mr. Biloxi'. In December 2010, Geraldine Hankins Johnson (1935-2010) identified these oystermen:[L-R: James Dixon Hankins (1910-1998) and Alfred L. Harris (1886-1966)]. Geraldine Hankins Johnson was the daughter of James D. Hankins and Eunice Harris (1915-2000). Eunice was the daughter of Alfred L. Harris and ?
__________________________________________________________________________________________________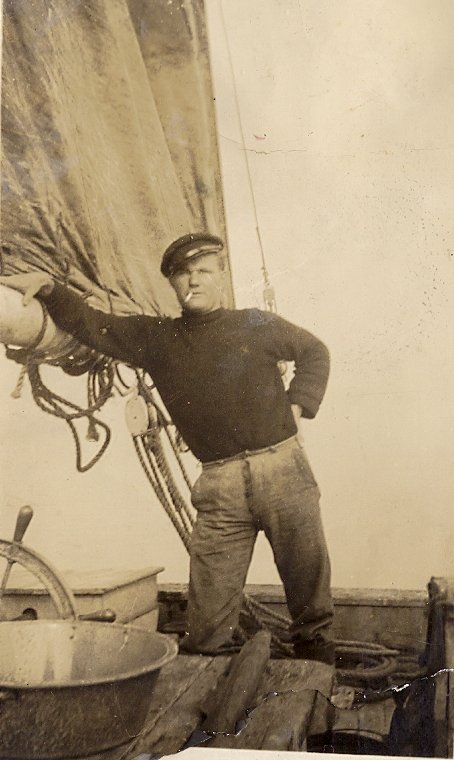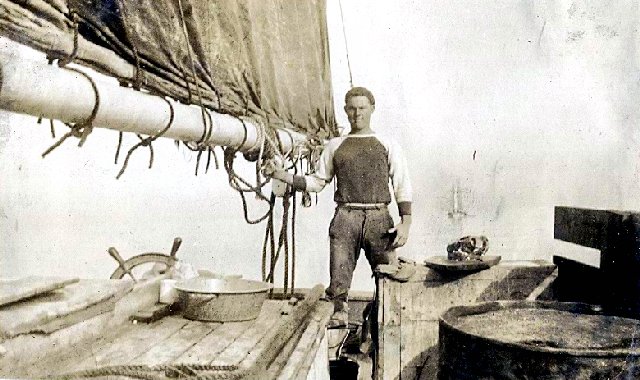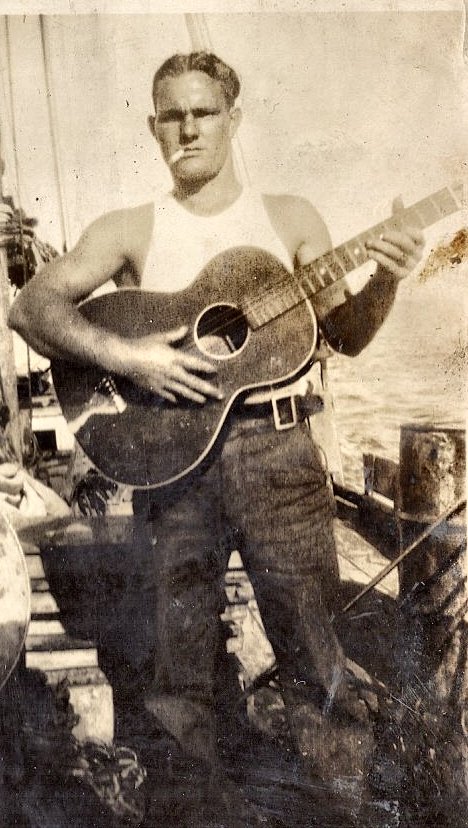 BILOXI BOATMEN circa 1910
[Courtesy of Tom Walker (metalworkertom@yahoo.com). These images from the collection of Elsie Bosarge m. John Manduffie and later married Jules 'Boulo' Fountain. Please contact me or Tom Walker, if you can identify these Biloxi sailors. Possibly crew members of the Emma Harvey. Merci beaucoup!]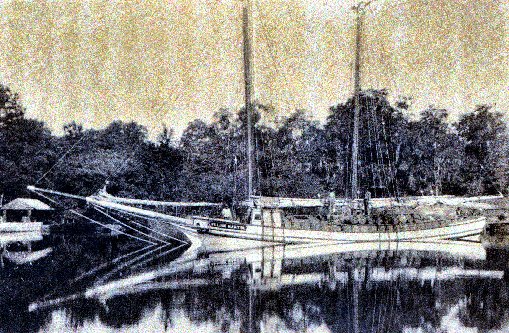 The William Martin
The William Martin was primarily freight schooner hauling charcoal, naval stores, and mercantile goods to and fro from Coastal Mississippi to New Orleans. She was owned by William Westfall of Vancleave, Jackson County, Mississippi.[Image courtesy of Russell Barnes, Biloxi, Mississippi]

The Albert Baldwin
The Albert Baldwin was in 1894 built at Handsboro, Missisippi by Mateo Martinolich (1861-1934) at his shipyard on Bayou Bernard for Joseph M. Stiglets of Stonewall, Harrison County, Mississippi. The Albert Baldwin was 65 feet long, had a 24.4-foot beam with a hold depth of 5 feet. She was coverted to motor power as this later images depicts.[Image from Ray L. Bellande and information courtesy of Russell Barnes, Biloxi, Mississippi]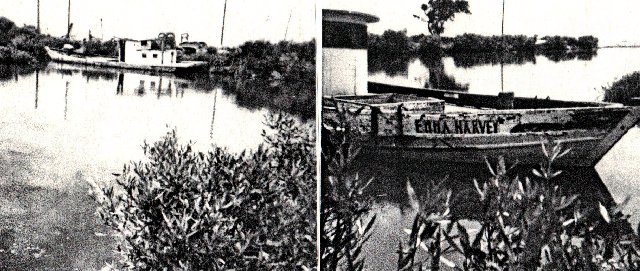 The Emma Harvey
[Ray L. Bellande images. The vessel at Cedar Point, Mobile County, Alabama circa 1960?]
The
Emma Harvey
was a Biloxi schooner utilized in the shrimp and oyster industry of the Mississippi and Louisiana coasts in the early years of this century. She was built by Casimir J. Harvey (1845-1904) at his Back Bay, now D'Iberville, shipyard probably in the 1890's, and was named for his youngest daughter, Emma Agnes Harvey (1889-1968). Although the physical dimensions of the Emma Harvey are not known, it is documented in Chattel Book 2, p. 232 of the Chancery Clerk's Office of Harrison County that Casimir Harvey conveyed a schooner on May 25, 1889, to Harry T. Howard. The boat was called the H.T. Howard, and was thirty six feet in length, fourteen and two sixteenth feet in breadth, three feet deep, and weighed eight and thirteen one hundredths tons. After the Dauphin Island Causeway was completed in the 1950s, the
Emma Harvey
plied the bay and Gulf waters as a shrimp trawler. According to the indigenous people of coastal Alabama, the high tides and strong winds of Hurricane Frederick on September 12, 1979, blew the Casmir Harvey built schooner into the wide expanses of the Mon Island marsh or Portersville Bay to the west of cedar Point. The fate or position of the
Emma Harvey
is presently unknown, but it is generally held that the Biloxi built schooner was destroyed by Hurricane Frederick.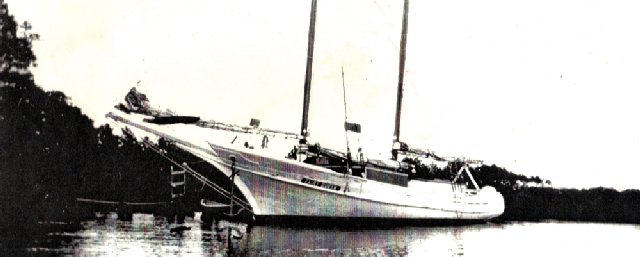 FAIRY QUEEN
[moored in Old Fort Bayou at Ocean Springs]
For nearly three decades, the
Fairy Queen (built 1890 by Casmir Harvey)
was a familiar sight to residents of coastal West Jackson County as it plied the waters of Fort Bayou and Biloxi Bay. W.W.
Branigar, brother of Harvey W. Branigar (1875-1953), a founder of Gulf Hills in 1926, organized the Fairy Queen Ship Company in 1927. It served that verdant resort as a pleasure craft to entertain guests. The Fairy Queen, Gulf Hill's pleasure yacht, also embarked from the Biloxi Yacht Club with passengers and returned at sunset to the resort on Old Fort Bayou north of Ocean Springs.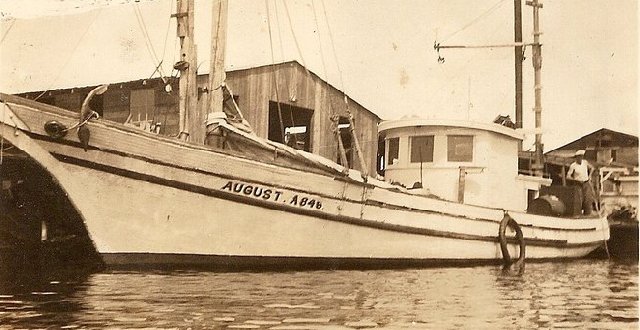 AUGUST
In 1911, J.D. Covacevich built two identical schooners named July and August. This photo is post 1933 after she had been refitted with an engine. Note the alpha numeric state registration number. She measured less than 15 tons and was thus able to opt for the state registration as opposed to the federal registration she had when built. This option began circa 1933.[Comments of Russell Barnes, Biloxi historian in June 2011]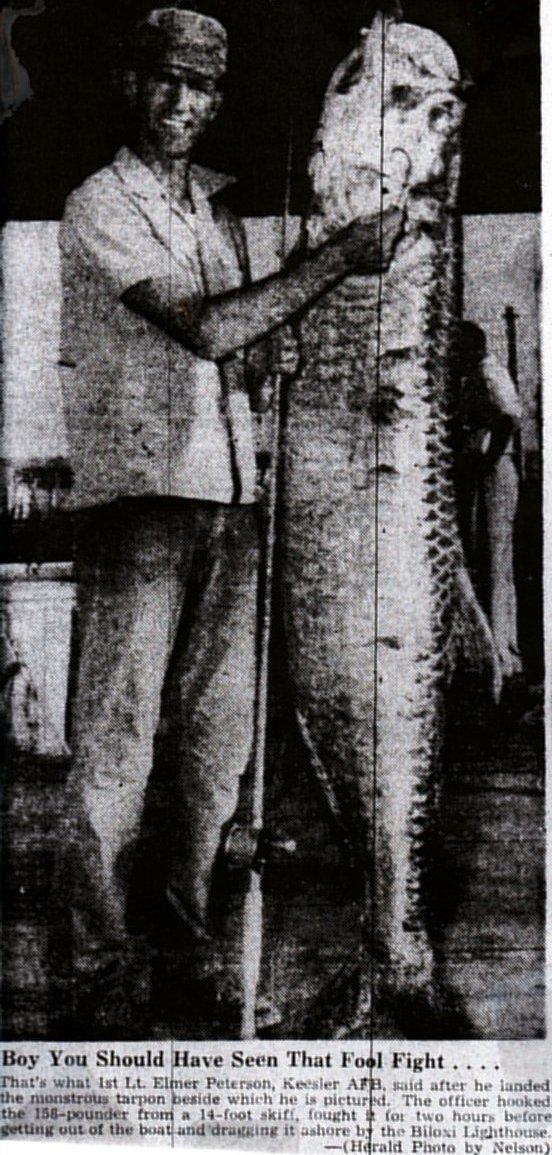 [see The Daily Herald, August 3, 1950, p. 5]
_______________________________________________________________________________________________
CASINO INDUSTRY
IMPERIAL PALACE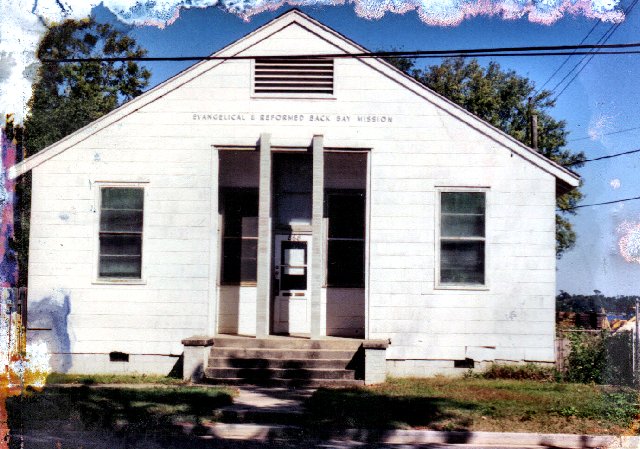 EVANGELICAL and REFORMED BACK BAY MISSION [image October 1995-Ray L. Bellande]
_________________________________________________________________________________________________
---