Image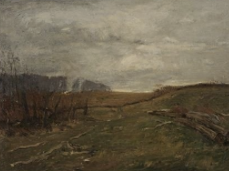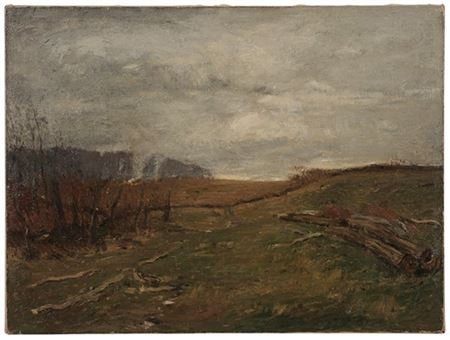 Springtime in the South-Biloxi, Mississippi
William S. Robinson
William Smith Robinson (1861-1945) was born on September 15, 1861 at East Gloucester, Essex County, Massachusetts to Robert Robinson (1839-1907), an 1855 English immigrant fisherman, and Emeline Smith (1841-1919), a native of Massachusetts. They married November 28, 1860 in Gloucester, Massachusetts and were the parents of two other children, George R. Robinson (1864-1940) m. Susan Sibley (1860-1925) and Nellie D. Robinson Torrey (1868-1896).(1870 Essex Co., Massachusetts Federal Census RM593_608, 473B, image 179 and FAG-Mt. Pleasant Cemetery, Gloucester, Essex Co., Massachusetts)
William was the son of a fisherman whose early years were highlighted by meeting the famous artist Winslow Homer and famous writer Rudyard Kipling. His early art work focused on the sea, with paintings and drawings of boats. Around 1890, he traveled to Paris to study at the Académie Julian. Upon his return to the United States, he began to exhibit his art and teach in both Philadelphia and New York.
"William Robinson to us all was first and last a painter. He had few hobbies and did not seem to need any. He painted the beauty of the New England countryside, its harbors and vessels with devotion and knowledge accumulated through long years of study and acquaintance."~ Robinson's Biographer for the Salmagundi Club Frederick Lester Sexton, 1945
Old Lyme
During the first two decades of the 20th century, the village of Old Lyme, Connecticut, was the setting for one of the largest and most significant art colonies in America. Centered in the boardinghouse of Miss Florence Griswold (1850-1937), the colony attracted many leading artists -- Henry Ward Ranger, Childe Hassam, and Willard Metcalf among them -- who were in the vanguard of the Tonalist and Impressionist movements. Drawn to Old Lyme by its natural beauty, they discovered an "old" New England setting that was, as one observer noted, "expressive of the quiet dignity of other days." Here was a country retreat where, as Metcalf put it, "every day is so in line with work." Interacting with each other and with the community, the artists of the colony produced an impressive body of work, which achieved renown in its day and still calls attention to the enduring – and fragile -- qualities of the rural New England landscape.
Old Lyme re-created many of the features found abroad and was, for a time, identified in the popular press as the "American Barbizon" or the "American Giverny." A stay at the Griswold House provided an artist with affordable lodgings, good food and company, the availability of studio space, and varied subject matter for plein-air painting. But Old Lyme offered something more – a retreat from the hurried pace of the city to a town that time had largely forgotten.(from Jeffery Anders
In 1905, William S. Robinson traveled from New York to the village of Old Lyme, Connecticut to stay at the boardinghouse of Florence Griswold (1850-1937). He worked in a studio near the brook that flows in the corner of the property. In 1921, Robinson moved into the boardinghouse and established a full-time studio on the grounds. During this same year, the new building for the Lyme Art Association, designed by Charles Platt, opened, and Robinson became a charter member—years later he was elected their president. Once sequestered in Old Lyme, his paintings revel in the surrounding landscape. According to his Salmagundi Club biographer, "His best pictures are not always of sailing vessels but more often of Connecticut hillsides and pasture lands, especially about Old Lyme where he lived for thirty-one years in the old Griswold House, working in a studio across the brook from the Lyme Art Association Gallery."
Robinson was one of the few people with Miss Florence when she died in the house in 1937. Shortly thereafter, the boardinghouse was shut down and all of her belongings sold in a public auction on the front lawn of the house. Robinson then moved to Biloxi, Mississippi, where he continued to create impressionistic landscapes. Instead of stoic New England homesteads and blossoming mountain laurel, however, he painted charming images of shrimp factories and southern shanties.
Biloxi
LAUREL INN
The Laurel Inn was a large, two-story, framed structure situated at 1722 West Beach Boulevard, now 1316 West Beach, in Biloxi, Mississippi between present day St. Jude, formerly 3rd Street, and St. Paul Street, once known as 2nd Street. It was situated in a part of Block 2-Lot 10 of the Keller's Avondale Subdivision. This subdivision was bounded by West Beach Boulevard [south]; 3rd Street [east]; Father Ryan Avenue [north]; and 2nd Street [west]. Lot 2-Block (Harrison Co., Mississippi Chancery Court 2nd JD District, Plat Bk. 1, p. 2)
The Laurel Inn was operated by two women, Anna Rebecca 'Bessie' Shorey Allen Edmonds (1871-1961) and Lottie Belle Brooks Williams (1874-1959).
Bessie D. Edmonds, the manager, was a native of Baltimore, Maryland. Before 1900, she had married a Mr. Allen and at this time, she was living at Baltimore with her parents, Miles C. Shorey and Mary J. Shorey, natives of Maine and Virginia respectively. Bessie had a daughter, Mary E. Allen (1893-1961+). Circa 1904, Bessie married Lt. Commander Samuel Preston Edmonds (1867-1943), a native of Miami, Missouri. The Edmonds family arrived at Biloxi in 1925 as Lt. Commander Edmonds was assigned to head the US Coast Guard base at Biloxi. He had graduated from the US Naval Academy in 1887 and entered into military service with the US Coast Guard. Lt. Commander Edmonds retired at Biloxi in 1931. His service had taken him to Alaska, the Great Lakes, Atlantic and Gulf Coast, as well duties in foreign waters as an instructor on cadet cruises.(1931 Biloxi City Directory, 1931, p. 124, 1900 Baltimore Co. Maryland Federal Census R 615, p. 3B, ED 211, and The Daily Herald, June 21, 1943, p. 1)
At this time, neither Mrs. Edmonds nor Mrs. Williams owned the Laurel Inn. They were domiciled here in 1930 and were renting the home for $200 per month. In their household were: Preston S. Edmonds (1904-1977); Ryland C. Edmonds (1908-1970) m. Virginia Welsh; Ella E. Edmonds (1910-1972) m. Irwin Massey Cowie (1910-1972); and Olive W. Shorey (1874-1930+), the sister of Mrs. Edmonds. Mrs. Edmonds expired at Tallahassee, Florida on September 21, 1961, at the home of her daughter, Ella E. Cowie.(1930 Harrison Co., Mississippi Federal Census R 1146, p. 6A, ED 4)
Mrs. Lottie B. Williams was born at Lumpkin County, Georgia on October 1, 1874. She married William Smith Robinson in Harrison County, Mississippi on November 9, 1936. (Harrison Co., Mississippi Circuit Court MRB 47, p. 336)
Mrs. Robinson acquired the Laurel Inn on July 17, 1937, from Fred L. Burton.( Harrison Co., Mississippi Chancery Court Land Deed Bk. 216, p. 87)
REFERENCES:
1927 Biloxi City Directory, (R.L. Polk and Company: NOLA-1931).
1931 Biloxi City Directory, (R.L. Polk and Company: NOLA-1931).
The Daily Herald, 50th Anniversary Souvenir, Golden Jubilee Number, Biographical and Historical 1884-1934, "Samuel Preston Edmonds", (The Daily Herald: Gulfport-Biloxi, Mississippi-1934).
CHANCERY COURT
Harrison County, Mississippi Chancery Court Cause No. 33844, 'City of Biloxi v. Mrs. Myrtle Walker and Deedy Baxter'-May 1955.
JOURNALS
The Daily Herald, "Captain Edmonds dies after short illness at Biloxi", June 21, 1943.
The Daily Herald, 'William S. Robinson dies in Biloxi', January 12, 1945.
The Daily Herald, 'Lottie B. Robinson', August 20, 1959.
The Daily Herald, "Wife of former C.G. Commander [Captain S.P. Edmonds] dies in Florida", September 21, 1961.